Lee Mildon believes that most people won't notice your old clothing when you wear a smile. Your face is the first thing that people look at when meeting you, and having an attractive smile with straight teeth can make a difference in how you are greeted.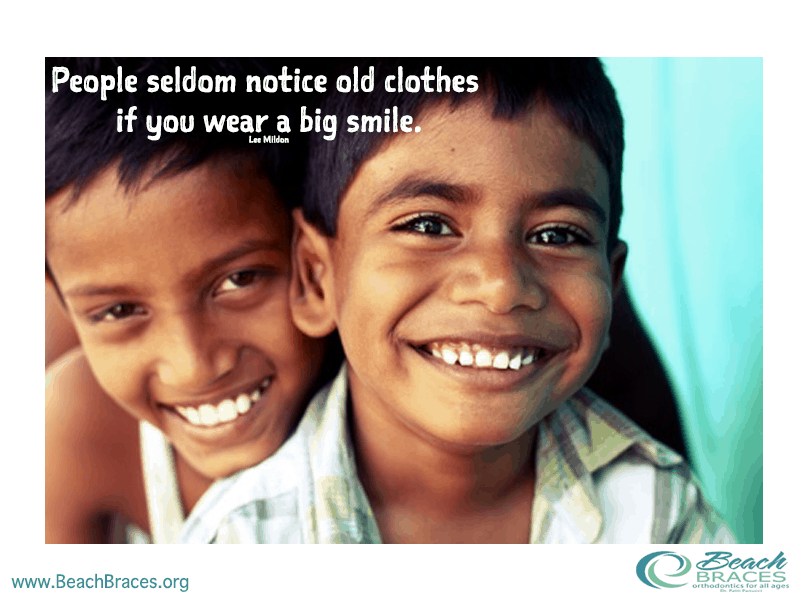 Fix Your Smile Instead Of Worrying About New Clothing
 If you aren't happy with your smile, then visit an orthodontist for an evaluation to learn more about the best treatment to reduce your malocclusions. You might fear orthodontic treatment because it may require wearing wires, but in many cases, you will only need to wear aligners to straighten your teeth.
It Is Easy to Wear a Smile When You Undergo Orthodontic Treatment
An orthodontic evaluation is a fast process that involves a physical examination from an expert along with collecting medical images of your mouth and face. With computer software, you can see how your facial structure will improve with orthodontic treatment. If you have minor malocclusions, then clear plastic aligners are suitable, and you only need to use these for one year to repair your teeth. Alternatively, when you have severely misaligned teeth, an orthodontist will recommend customized braces that have brackets and wires.
At our facility, you can learn more about these orthodontic devices:
Wild Smiles – colorful brackets and wires
Invisalign – clear plastic aligners for adults and teenagers
Self-ligating devices – requires fewer orthodontic visits
Clear braces – devices made with clear or color-matching brackets
Retainers – designed to keep your teeth in the proper positions
To learn how to wear a smile with confidence, call us today at 310-379-0006. If you live in Manhattan Beach, Calif., then contact Beach Braces to have an evaluation from our friendly orthodontist. Dr. Patricia J. Panucci specializes in creating unique smiles for children, teenagers, and adults.
Beach Braces Orthodontics
220 N. Aviation Blvd
Suite A
Manhattan Beach
CA 90266
Phone: (310) 379-0006
Skype: Beachbraces
Wear a Smile: Be the Height of Fashion 2017
http://www.beachbraces.org/wp-content/uploads/2017/04/BB2-April2017.png
600
800
Guest Post
http://www.beachbraces.org/wp-content/uploads/2016/01/logo-beach-braces-orthodontics.png
Guest Post
2017-04-24 04:48:30
2017-04-27 21:01:38
Wear a Smile: Be the Height of Fashion 2017