illuminaut
via
Compfight
cc
">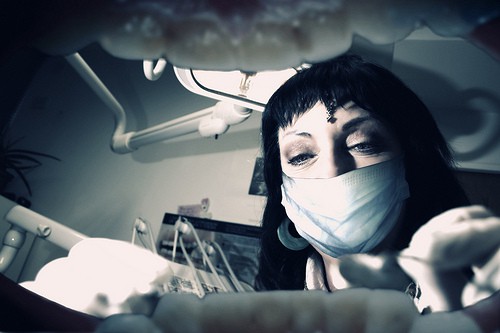 Is It Normal for a Dental Hygienist to Only Polish my Teeth During a Cleaning?
The complexity of a tooth cleaning depends on the condition of your teeth when you visit the orthodontist Manhattan Beach office. A tooth cleaning can involve teeth whitening or teeth polishing as a part of the process. However, simply having your teeth polished by a dental hygienist during a routine cleaning is rare. Cleaning is usually a thorough procedure that involves other steps such as scraping, rinsing and flossing. You should have your teeth cleaned at least once every six months for optimum results.
Your initial visit with the dental or orthodontics office will begin with a routine X-ray. The doctor and the hygienist will need the information from your X-rays to establish the level of cleaning that you need. The orthodontist or the hygienist may also conduct a physical examination of your mouth. The two procedures will determine the amount of plaque buildup you have on your teeth. If the level of plaque is minimal, then you will only need a routine tooth cleaning. If you have a high level of plaque on your teeth, or you have pockets on your gums, then you will need a complex cleaning or a deep cleaning. In such a situation, the dental hygienist may have to perform some scaling.
Teeth Whitening
Teeth whitening Manhattan Beach procedures are cosmetic procedures that you may desire when you visit an orthodontist's office. Teeth whitening involves the application of a whitening agent such as hydrogen peroxide to the surface of your teeth. You can choose from several options such as a take home package or an in-office whitening procedure. A specialist can perform tooth whitening in as little as one hour. Severe tooth discoloration may take several office visits for you to resolve. Specialists have affordable plans from which you can choose if you need help.
Braces for Adults
A reliable orthodontist in Manhattan Beach can provide you with braces to restore a straight smile. A straightened smile can boost your self-esteem and confidence so that you will feel more outgoing and sociable than you have ever before felt. A multitude of options is available for reliable braces. You can choose the standard metal braces, the Invisalign system, Damon Braces, lingual braces and more. An honest orthodontist can speak to you about the advantages and the disadvantages of each system. So many options are available that you will have no problem finding a system that works for you.
Schedule an Appointment Today
Beach Braces is a reliable firm with state-of-the-art technology, a professional team, and honest intentions. Dr. Panucci is a friendly and compassionate specialist who can create a smile that can light up a room. You can contact the office today to schedule an initial consolation. During that time, the doctor will examine your mouth and have a candid conversation with you about your condition and your options. Next, you will have the option to move forward with your treatment. Beach Braces specializes in making people happy because everyone deserves to smile. Give us a call today!
Beach Braces, 1730 Manhattan Beach Blvd. Suite B, Manhattan Beach, CA 90266
TEL: 310-379-0006 Fax: (310) 379-7051.
What to Expect During Teeth Cleaning?
Related Articles
http://www.beachbraces.org/wp-content/uploads/2014/10/3991207189_cd7487f233.jpg
333
500
Dr Patricia Panucci
http://www.beachbraces.org/wp-content/uploads/2016/01/logo-beach-braces-orthodontics.png
Dr Patricia Panucci
2014-10-09 14:30:43
2015-09-20 19:12:02
What to Expect During Teeth Cleaning?