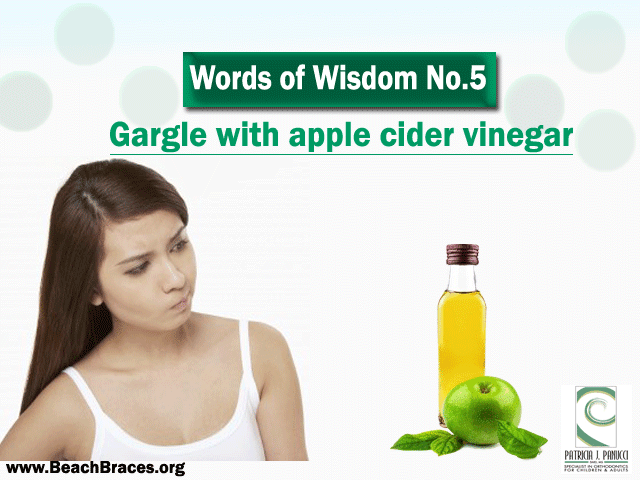 Gargle with Apple Cider Vinegar

Words of Wisdom No.5: "Gargle with Apple Cider Vinegar"
Did you know that gargling with apple cider vinegar every morning helps whiten your teeth?
Yes, you read it right. Apple cider vinegar can actually do a great job in removing stains in your teeth thus making them appear whiter with every gargle. Aside from removing these stains, apple cider vinegar can also kill bacteria in your teeth and gums hence minimizing the possibility of bad breath. This comes in handy especially in cases where  you don't have a toothbrush on you and you need to make sure you have a good oral hygiene.
Apple cider vinegar is a good substitute knowing that it can easily be found in anyone's kitchen. In case you are wondering, apple cider vinegar obviously came from apples. It is made by crushing apples and squeezing its juice out.
Just like detergent foods, using apple cider vinegar does not mean that you don't need to brush your teeth anymore. You still need to do so the moment you get the chance to use your toothbrush. Experts recommend gargling with apple cider vinegar every morning before you proceed to brush your teeth.
There's no more natural way to whiten teeth than using apple cider vinegar. Knowing some alternatives when it comes to oral hygiene allows you to still find a way to preserve your teeth no matter what the circumstances are. The use of apple cider vinegar is just among the hundreds of other alternatives you can explore and ask your orthodontist about.
If there are any question you would like to ask, please feel free to contact our office, who write a comment on our Facebook wall.
Dr Panucci – Beach Braces 1730 Manhattan Beach Blvd. Suite B, Manhattan Beach, CA 90266 TEL: 310-379-0006 Fax: (310) 379-7051.
Get A Fresh Oral Hygiene With Apple Cider Vinegar
http://www.beachbraces.org/wp-content/uploads/2013/12/WW5-BB.png
480
640
Dr Patricia Panucci
http://www.beachbraces.org/wp-content/uploads/2016/01/logo-beach-braces-orthodontics.png
Dr Patricia Panucci
2013-12-19 19:00:00
2013-10-23 19:58:30
Get Fresh With Apple Cider Vinegar