Fitting braces to improve teeth shape and facial appearance takes up time and does cost money, so the sensible braces wearer should exercise caution before consuming a food or drink that can either damage parts of the braces or cause tooth decay while the braces are in position. Habits are often difficult to alter, even if they pose a damage to the health of the teeth. There are some disadvantages of chewing gum while braces are in place and there are some benefits, according to a new research as well.
LAST UPDATED: OCTOBER 25, 2016
Can I Chew Gum with Braces?
FAQ
What Does Gum Do to Braces?
Firstly, the wires placed in the mouth by the orthodontist are fixed in accordance with the desired movement of the recipient's teeth. Chewing gum can bend these wires and if this happens, the teeth will move in relation to the bent wires. This means, at the next visit to the orthodontist, the wires will have to be changed. Moreover, in the longer term, this could lengthen the treatment time.
Do Some Orthodontist Say It's Ok to Chew Gum with Braces?
Accordingly, some orthodontists suggest that sugarless gum can be chewed, just not too much is not chewed at one time. It appears that the chewing action can stimulate the bone surrounding the teeth that the braces are trying to move and this is not a bad thing. Today, the wires used for braces are a lot more flexible than those used in braces a few years ago so that modern braces interfere less with the user's lifestyle. Furthermore, these modern techniques along with the more invisible nature of braces are the very reason why so many people have started using braces to improve their appearance.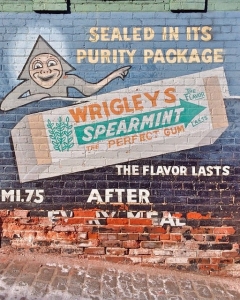 What Are the Problems with Chewing Gum with Braces?
One of the problems associated with braces is keeping the teeth clean in between the braces and their various attachments. That is why sugar rich food is discouraged as the sugary substance can become lodged in hard to clean areas, which can accelerate the formation of cavities and tooth decay. Research has discovered that sugar-free gum which has been sweetened with xylitol and other types of artificial sweeteners can reduce the formation of cavities. Xylitol inhibits the development of Streptococcus mutans, the bacteria that contribute to tooth decay. When fluoride is included in chewing gum it can strengthen tooth's enamel. It is thought that the act of chewing gum increases saliva production and so washes away bacteria. It is an important process in preventing tooth decay as much as any of the chemicals placed in the chewing gum.
What About Sugar-free Gum and Braces?
All things considered, chewing sugar-free gum for 20 minutes helps to prevent tooth decay if it is done just after a meal and is a good substitute for brushing and flossing according to the American Dental Association, because the act of chewing the sugar-free gum produces saliva which washes away dangerous bacteria, so protecting teeth.
Contact Our Orthodontic Office Today
The orthodontist working at Beach Braces in Manhattan Beach, Calif., understands how to evaluate her patients with top-of-the-line computer software. Dr. Patricia J. Panucci works with children, teenagers and adults to improve their smile and bite with these orthodontic treatments:
Lingual braces
Self-ligating devices
Wild smile brackets
Aesthetic devices
Invisalign for adults and teenagers
Make sure you visit an Invisalign specialist like Patricia J. Panucci of Manhattan Beach Orthodontics. She possesses great skill and knowledge along with a compassionate nature. Its easy to get a complimentary consultation. She will give you a thorough evaluation and help you achieve a new and improved smile with perfectly straight teeth. Schedule an appointment today!
  Beach Braces
1730 Manhattan Beach Blvd.
Suite B, Manhattan Beach
CA 90266
TEL: 310-379-0006
[4 Facts] – Chewing Gum and Braces
Related Posts
http://www.beachbraces.org/wp-content/uploads/2016/10/gum-654238_640.jpg
640
512
Dr Patricia Panucci
http://www.beachbraces.org/wp-content/uploads/2016/01/logo-beach-braces-orthodontics.png
Dr Patricia Panucci
2016-10-25 09:52:49
2017-06-23 20:56:31
[4 Facts] - Chewing Gum and Braces