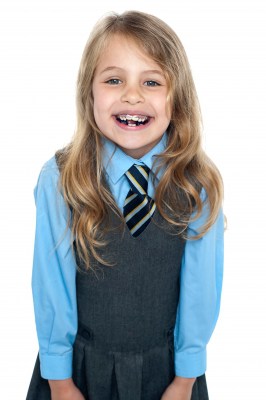 As a parent, you want what's best for your child, and this could mean getting their teeth straightened in order to improve their self-esteem, looks and confidence levels. Crooked teeth are incredibly common, and most people aren't born or develop into having gorgeous straight teeth. This is where braces can come in handy, but it's a subject that is touchy for a lot of parents because they may not know when the best age for your child to get orthodontic braces is. Knowing what age is right for them can help treatment to go by more smoothly, ensuring that their teeth stay straight for a lifetime.
Things to Consider When Getting a Child Braces
For those parents who want to know the best age for your child to get orthodontic braces, it's all about knowing what to consider about the actual treatment that's involved. Keep in mind that colored braces for kids will normally be put onto the teeth and stay there for about a year or two. This could vary depending on the severity of your child's teeth and how crooked they are, but the average time a child will have braces is for about one or two years. This length of time may not seem like a huge deal for you, but it's definitely an enormous deal for a growing kid.
Also, when the braces are actually being put on, your child will have to sit in the orthodontist's treatment chair for a good hour or two. This may be too long for younger kids and younger teens, so this is a consideration that you'll want to take in before you visit your local orthodontist. Colored braces for kids can make it fun and entertaining to get braces and to show them off to their friends, but the actual treatment that will be involved is something that all parents need to think about before they take their child to the orthodontist. It's something that you want to go as smoothly as possible, and it cannot be like this when the child is either too young or still too immature to take things seriously.
FAQ # 2: Beach Braces:At what age should I schedule an appointment for an orthodontic screening?
Knowing the Care of the Braces
Another thing that all parents need to realize is that braces have to be cared for a lot differently than normal teeth. Braces colors and brackets can shine gorgeously when they're brushed correctly, but this can sometimes be a chore for kids who are still getting used to just being able to brush their normal teeth. If your child is not able to brush their normal teeth without a lot of fuss, there may be issues when they have braces put on. While it isn't impossible or overly difficult to brush teeth that have braces on them, it is more difficult than just brushing ordinary teeth.
Taking good care of the braces colors and brackets is essential for optimal treatment. If the teeth aren't cared for properly, decay and cavities can become a huge problem, and this can hinder the overall look and health of the teeth despite the fact that they are being professionally straightened. This might be something you'll want to discuss with both your child and the orthodontist if you would like for your child to begin treatment.
When is the Best Age?
There really is no set age for a child to get braces, since all kids are different in terms of maturity. A 12 year old child might be mature enough to get braces on, but another 12 year old child may not even be able to brush their teeth correctly enough to where they'll be able to take care of their new braces. Knowing your own child and how well they are able to handle going to an orthodontist or other type of doctor can also help you to figure out if treatment is even viable. In order for orthodontic treatment to be a success, you and your child need to go to the orthodontist routinely to get wires tightened and new plastic trays made up if they choose to go with an invisible brace option. If your teen continually skips their appointments, this does nothing for the overall straightening quality of their teeth.
Discussing orthodontic work with your child is the best place for you to start, since they should always have a say in their own treatment. Most kids will be eager and willing to straighten out their teeth, especially if they are dealing with severe crowding and mouth pain. This is why it is so important to sit down and have a good conversation with them about possibly going to get braces. Try to let them know what should be expected during treatment so that they feel as though they are prepared. It's never a good idea for you to hide things from your kids and let them find out when it is too late for them to change their minds.
Visiting the Orthodontist
Once you've talked to your child or teen about going for braces, it's time to visit the orthodontist to begin treatment. During the first visit, x-rays may be taken of your child's teeth, and this will be followed up with a consultation that discusses different options available to your teen or child and what they should expect. Encourage your child to ask as many questions as they want so that they can feel prepared for the treatment that will be coming up in the near future.
If you think that your child or teen is ready for braces, you'll want to contact Beach Braces Orthodontics to set up a consultation appointment. This will allow you and your child to see what types of braces are there for them, and how long the overall treatment may take from start to finish. Your child will be thrilled that they have gorgeous and straight teeth after the braces have come off, and they can feel a lot more confident in showing off their smile to all of their friends at school.
Beach Braces, 1730 Manhattan Beach Blvd. Suite B, Manhattan Beach, CA 90266
TEL: 310-379-0006 Fax: (310) 379-7051.
Best Age for Your Child to Get Orthodontic Braces
Related Posts
http://www.beachbraces.org/wp-content/uploads/2014/11/ID-100171423.jpg
400
266
Guest Post
http://www.beachbraces.org/wp-content/uploads/2016/01/logo-beach-braces-orthodontics.png
Guest Post
2014-12-30 10:01:40
2015-01-28 22:20:03
Best Age for Your Child to Get Orthodontic Braces