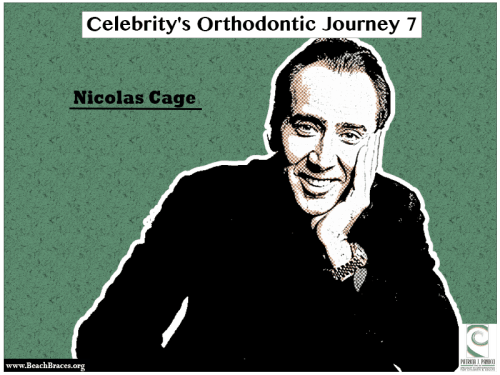 Celebrity's Orthodontic Journey # 7: Nicolas Cage
Where'd he get that smile?
When you're mesmerized by Nicholas Cage in an action movie like National Treasure, you don't really ask yourself how he got those perfectly straight, dazzling white teeth. However, you've probably wondered what it would be like to have a smile like that.
Nick Cage is not shy about sharing where he got that much photographed smile. He found it through lingual braces that were fitted to straighten his lower teeth. Invisible to the observer, lingual braces work below the tongue area to gradually bring teeth back into alignment.
The freedom to smile
Today, braces for adults have become fashionable and liberating for many users. Nicholas Cage serves as a famous example of what lingual braces can do for a person. Yet who doesn't wish they could smile with the ease and brilliance of a movie star?
You may not know it, but many people experience lower teeth crowding, and it isn't until later in adulthood that it becomes more pronounced and begins to impact confidence. You are seeing more and more people take decisive steps to correct their smile because today's new braces have been put in the reach of so many people.
Order up a new smile today
If you are thinking about braces for adults or Lingual Braces in Manhattan Beach, call Beach Braces today at 310-379-0006. As her testimonials indicate, Dr. Patricia Panucci DMD, MS, is one of the Best Orthodontists in Los Angeles and will be happy to answer any questions you may have about braces for adults or today's Invisalign braces. At Beach Braces, new smiles are mandatory–treasure map optional.
Beach Braces, 1730 Manhattan Beach Blvd. Suite B, Manhattan Beach, CA 90266
TEL: 310-379-0006 Fax: (310) 379-7051.
Wearing an Incredible Smile – A Fashion Statement
Related Articles
http://www.beachbraces.org/wp-content/uploads/2014/10/Celebritys-Ortho-Journey-BB7-e1410434967581.png
375
500
Dr Patricia Panucci
http://www.beachbraces.org/wp-content/uploads/2016/01/logo-beach-braces-orthodontics.png
Dr Patricia Panucci
2014-10-14 16:00:12
2015-01-28 23:23:35
Wearing an Incredible Smile - A Fashion Statement