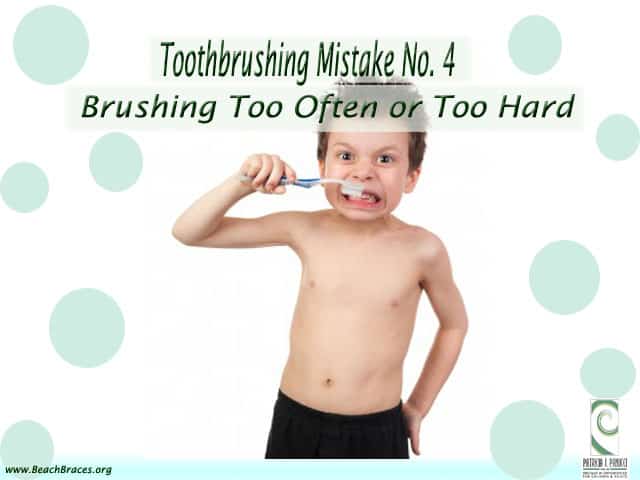 Toothbrushing Mistake No.4: "Brushing Too Often or Too Hard"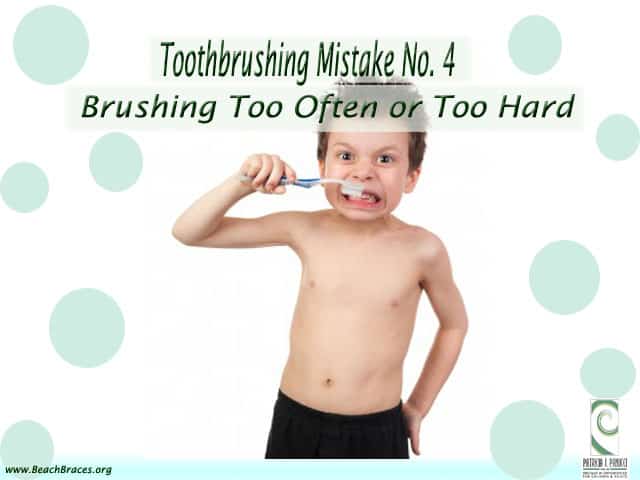 Although brushing is good for your overall oral hygiene, you should bear in mind that too much of it can also cause several problems. Brushing too often or too hard does not actually contribute to your dental health instead it can actually be harmful. Brushing too hard can cause your gums to deteriorate faster than expected.
Damaging the gums which hold the teeth in place can cause different misalignment problems. In order to avoid this situation, you should brush your teeth gently so as to remove plaque and debris without damaging the gums or eroding the enamel of your teeth.
On the other hand, brushing your teeth more than four times a day would seem compulsive according to Sesemann DDS, an Omaha dentist and president of the American Academy of Cosmetic Dentistry. Doing so will expose the roots of your teeth to irritation. The trick according to Sesemann is to brush your teeth gently for two to three minutes and between two to three times daily. This way you can ensure that plaque build up is prevented while keeping the roots of your teeth safe and sound.
Overall, brushing too often or too hard is a common mistake for some people thinking that their teeth would be cleaner if they do so excessively not knowing that they are actually damaging them in the process. Always remember, everything in excess won't do you any good and brushing your teeth is not an exception.
Did you know that straight teeth allow less plaque to build then misaligned teeth?  If you have any further questions about braces click here. Alternatively you can contact our office today to arrange an appointment.
Beach Braces 1730 Manhattan Beach Blvd. Suite B, Manhattan Beach, CA 90266 TEL: 310-379-0006 Fax: (310) 379-7051
Toothbrushing Mistake No.4
http://www.beachbraces.org/wp-content/uploads/2013/08/TM4-BB.jpg
480
640
Dr Patricia Panucci
http://www.beachbraces.org/wp-content/uploads/2016/01/logo-beach-braces-orthodontics.png
Dr Patricia Panucci
2013-09-10 19:00:00
2013-09-23 22:33:53
Toothbrushing Mistake No.4