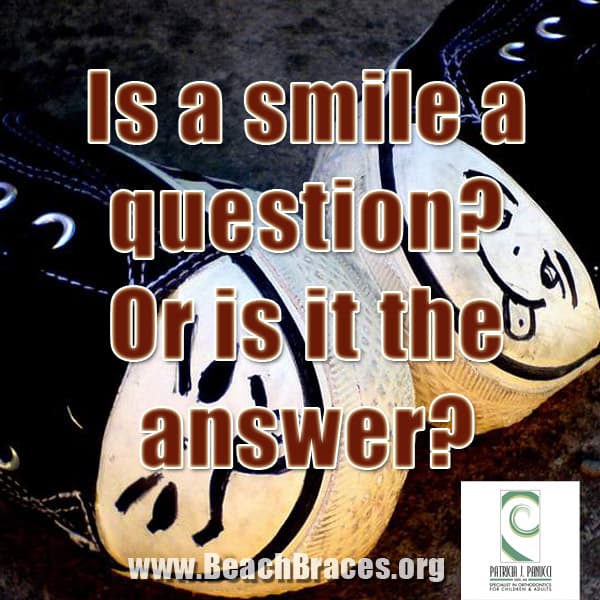 "Is a smile a question? Or is it the answer?"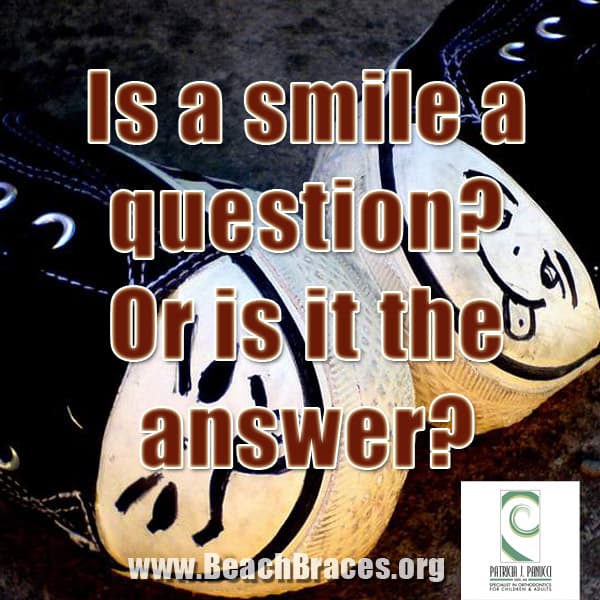 Beach Braces Smile Quote #15 "Is a smile a question? Or is it the answer?"
Smiling is most definitely an answer. Sometimes when asking a question a smile is all that it takes. Think of all the times in the past couple days that you smiled.
In these instances when you smiled were you content with what you had discovered?  Is this what caused your boost in joy? Or was it because someone made you laugh and you were joyed with the feeling that it gave to you.
We respond to situations with our emotions, be it happy or sad. When we smile its because we are feeling something and we are sure that what is being felt is making us happy or we appreciate the nature of it.
Smiling is the answer for many things, but we need to start using it more often. In a place where there is no smiling, people will become hard and calloused in their hearts. It should be our goal to go to these places and share our joy with them.
Since laughter and smiles are contagious, we should desire to bring that to people who are without happiness. Of course there is a place and a time for everything, but if you feel that you could brighten someone's day with a smile, by all means smile away!
You might be the only person that day who has tried to boost their spirits and in the end you could have made them very happy. The question shouldn't be if we should share our smiles with one another. The question should be how.
How can we spread positivity with a smile to others?  Start by just smiling at people. Chances are they will return the favor with a smile.  When you are comfortable with telling jokes, share them with some friends and see their faces change from a blank stare to completely happiness. Whatever you do, be happy and share that smile with everyone!
Unfortunately many people cover their smile with their hand, as they don't feel comfortable with their smile and don't wish to wear braces. A good alternative are clear braces, named Invisalign, adults especially feel most at ease using these clear braces.
You can call our office for more information.
Beach Braces 1730 Manhattan Beach Blvd. Suite B, Manhattan Beach, CA 90266  TEL: 310-379-0006 Fax: (310) 379-7051
To Smile or Not to Smile that is the Question
Related Posts
http://www.beachbraces.org/wp-content/uploads/2013/04/question.jpg
600
600
Dr Patricia Panucci
http://www.beachbraces.org/wp-content/uploads/2016/01/logo-beach-braces-orthodontics.png
Dr Patricia Panucci
2013-05-14 22:33:33
2015-05-08 08:04:32
To Smile or Not to Smile that is the Question