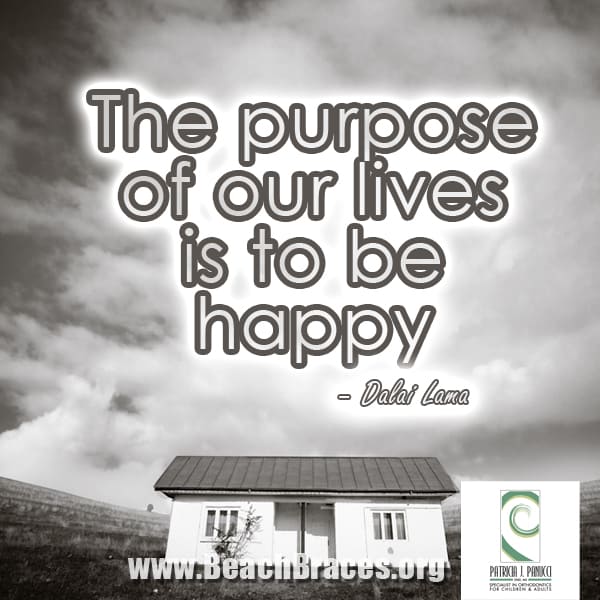 "The purpose of our lives is to be happy!"

Beach Braces Smile Quote #23 "The purpose of our lives is to be happy!"
Many people get hung up on wealth, possessions, stress, and difficulties in life but it is important to remember that the true purpose of our lives is to be happy and to share our happiness with others. So much of our society has become extremely fast-paced and material, and as more and more people are struggling to find their own version of happiness by consuming and buying more and more each day the root of happiness comes directly from within. You can share this happiness with other people through something as simple as a smile.
A smile is not something that can be bought or sold but it certainly can be traded. If you are able to pass by someone on the street and give them a confident smile you can share your happiness directly with others and truly brighten their day. Remember that there is always something that you can be happy about and that it's very important to take time out of a busy day or a stressful event to spend time making yourself smile. It is understandable that we can't be happy at all times but to try and embrace happiness and sheer happiness with others daily is a noble pursuit it can only help to enrich our lives.
As many others may struggle to obtain more material wealth, they are continuing to ignore our base human instinct to simply share happiness with each other and be happy each and every day. Remember to try and stay positive and to share the things that you are happy about. Think of happy memories and try to smile each and every day so that you can share your happiness with others.
Don't worry if you are not confident with your teeth, Dr Panucci is here to increase your happiness showing off your radiant smile. You can get a free consultation by clicking here!
Beach Braces 1730 Manhattan Beach Blvd. Suite B, Manhattan Beach, CA 90266 TEL: 310-379-0006 Fax: (310) 379-7051
The purpose of our lives is to be happy
Related Posts
http://www.beachbraces.org/wp-content/uploads/2013/07/someone.jpg
600
600
Dr Patricia Panucci
http://www.beachbraces.org/wp-content/uploads/2016/01/logo-beach-braces-orthodontics.png
Dr Patricia Panucci
2013-07-10 18:57:09
2015-05-08 00:14:09
The purpose of our lives is to be happy