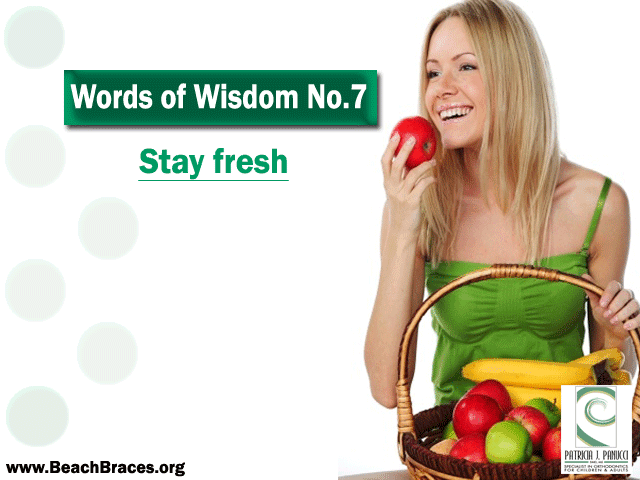 Stay Fresh!

Words of Wisdom No.7: "Stay Fresh"
During a busy day, you might not have the time to brush your teeth as often as you want. Even though you are following the guidelines for brushing your teeth around two to four times daily, you might still find your breath smelly. So what do you need to do in order to avoid this? You don't want to greet your major investors with a bad breath during your meeting but you don't have the time to brush your teeth before the meeting either.
Buying a Mouth Wash
The solution is simple. Keep an alcohol-free mouth wash on you all the time. Gargling with mouth wash always saves you your precious time compared to brushing your teeth. Besides, if you don't bring your toothbrush with you every day, then keeping a mouthwash at your side comes in very handy. When buying a mouth wash, making sure it is alcohol-free should be part of your criteria. Too much alcohol can dry out the tissues of your mouth making it more susceptible with bacteria.
So how do you know if it's time to gargle with mouth wash? The simple step would be to lick your palm and smell it while it's still wet. If you don't smell anything then you are still good to go but if you smell something, then it's time to bring that mouth wash out. In emergency situations where you don't have a toothbrush or a mouth wash, you can resort to a sugar-free breath mint. It gives temporary effect of freshness and can help eliminate odor.
If you have any other queries about caring for your teeth you can post a comment on our Facebook wall, or contact Dr Panucci directly for your complimentary consultation.
Dr Panucci – Beach Braces 1730 Manhattan Beach Blvd. Suite B, Manhattan Beach, CA 90266 TEL: 310-379-0006 Fax: (310) 379-7051.
Keep Your Teeth Fresh
http://www.beachbraces.org/wp-content/uploads/2013/10/WW7-BB.png
480
640
Dr Patricia Panucci
http://www.beachbraces.org/wp-content/uploads/2016/01/logo-beach-braces-orthodontics.png
Dr Patricia Panucci
2014-01-02 19:00:05
2013-10-23 20:57:33
Keep Your Breath Fresh