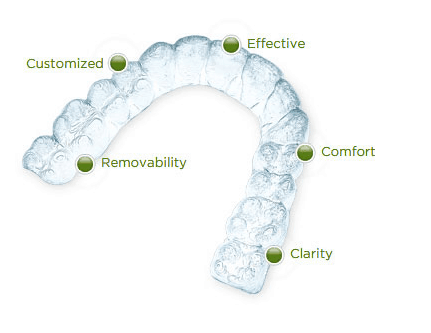 Invisalign FAQ's
Invisalign straightens your teeth without wires and brackets, using a series of clear, customized, removable appliances called aligners. It's virtually undetectable, which means hardly anyone will know that you're straightening your teeth. These are some common FAQs for new patient wearing Invisalign.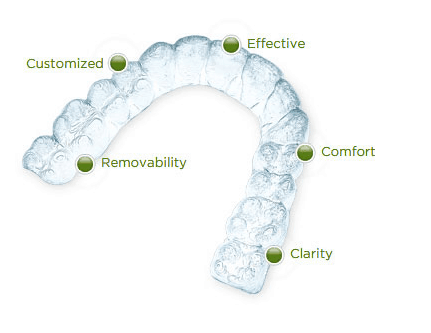 1. What is Invisalign?
Invisalign is an orthodontic appliance that works similarly to braces and is completely removable. Invisalign is created using nearly invisible dental aligners made of thermoplastic. The aligners look very similar to teeth whitening trays that you may use it the dentist or you may have purchased from your local drugstore. As you progress through Invisalign treatments you will need to change these aligners to gradually adjust your teeth into the position for your ideal smile.
2. How do the aligners work?
Over time you will need to change out the aligners to move your teeth into their correct position. The aligners will put a controlled force on teeth to slowly move them into their position. Orthodontists will map out these forces and dictate how aligners should be adjusted to properly adjust your teeth. Over the length of your treatment your teeth will gradually move as you change each aligner until they are eventually formed into their correct structure.
3. How would Invisalign treatment affect me?
Unlike braces and some other forms of traditional orthodontic appliances, Invisalign is completely removable. Patients are only required to wear Invisalign for 20-22 hours a day for the best results. Removing the aligners to eat or drink means that you are not restricted in the types of food that you would regularly eat and you will also have no difficulties cleaning your teeth. The best part is the aligners are virtually invisible so it will be very difficult for anyone to know that you are undergoing orthodontic treatment. Invisalign may be a bit uncomfortable for the first few days that you wear the aligners, but after that they have a minimal effect on your life.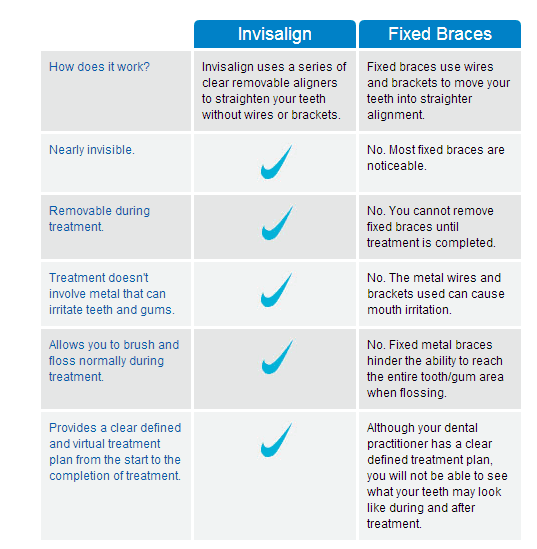 4. Do I need to take care of my aligners?
You will need to clean your aligners regularly. You can do this by both brushing them as you would your teeth and rinsing them with lukewarm water, or looking into the specialty Invisalign cleaning system. Changing  your aligners whenever your orthodontist recommends is also required as part of your treatment.
5. How long does the treatment take?
Treatment will depend on how severe your individual case is. The average amount of time that the aligners are used is around 12 months for adults. Your orthodontist will be able to give you an indication of the amount of time your treatment may take but ultimately the deciding factor will be how well you personally adjust to treatment with the aligners.
6. How often will I need to schedule appointments?
Invisalign will require less appointments than with traditional braces but you should still see your orthodontist at least once every 4 to 6 weeks to track your progress.
7. How much does Invisalign cost?
Only your individual orthodontist will be able to determine the full cost of Invisalign. It depends on the amount of treatment that you need individually and the number of aligners that you might need to complete your treatment. Some of the factors on pricing include: The area that you live in, the difficulty of your case and the amount of orthodontic insurance coverage you may have. The national average for the cost of Invisalign treatment in the United States is around $5000.
If you need more information about Invisalign, feel free to call us or contact our office.
Beach Braces
 – 1730 Manhattan Beach Blvd. Suite B, Manhattan Beach, CA 90266 TEL: 310-379-0006 Fax: (310) 379-7051.
  Seven invisalign FAQs
http://www.beachbraces.org/wp-content/uploads/2013/09/Invisalign_.png
333
431
Dr Patricia Panucci
http://www.beachbraces.org/wp-content/uploads/2016/01/logo-beach-braces-orthodontics.png
Dr Patricia Panucci
2013-09-19 18:00:02
2015-06-23 11:40:44
Seven Invisalign FAQ's