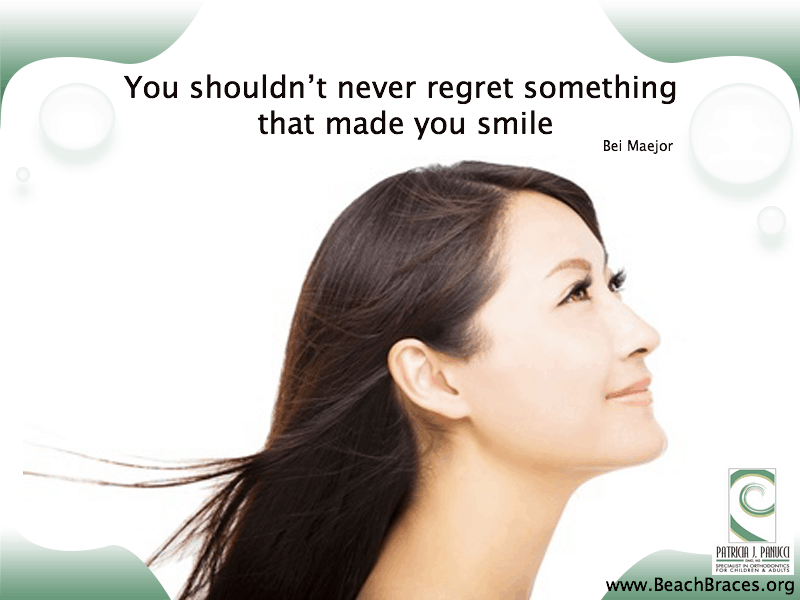 Smile Quote # 38: "You shouldn't ever Regret Something that Made you Smile" – Bei Maejor
The things that make us smile are the things that keep us useful and enjoying a good quality of life. It's very important that we pursue the things that make us smile in life. While there may be regrets for not spending time working, saving or even relaxing in some cases it's very important that we do whatever makes us smile without regrets. Some of the best stories that we have in our lives come from taking risks and doing the things that we love. Ultimately a smile is worth it and a story is worth it as well.
If you are ever facing a tough decision or you need some positivity in your life take some time out and do something that you love. Answers will become clearer and you can create some beautiful memories with the people that you hold most dear. As you spend time doing the things that you enjoy it's pretty easy to form a smile and share a smile with others. What's important is having the ability to share your smile with other people. When you share a great big smile where you show your teeth and make other people happy to be around you it's quite possible that you will receive a smile right back for your efforts.
Having the confidence to share your smile is very important and if you feel as though your smile is holding you back we have a team of experts who is available to help you. If you have never considered orthodontic care for your smile, it's important to think of this option at any age. If you feel as though you are held back by your smile the team of experts at Dr. Patricia Panucci Beach Braces can provide you with treatment options that can help you share your smile with the world while you do the things you love. Give them a call today.
Beach Braces, 1730 Manhattan Beach Blvd. Suite B, Manhattan Beach, CA 90266
TEL: 310-379-0006 Fax: (310) 379-7051.
Regret Anything but your Smile
Related Posts
http://www.beachbraces.org/wp-content/uploads/2014/05/BB-SQ51.png
600
800
Dr Patricia Panucci
http://www.beachbraces.org/wp-content/uploads/2016/01/logo-beach-braces-orthodontics.png
Dr Patricia Panucci
2014-06-12 13:53:00
2015-01-29 01:44:53
Regret Anything but your Smile