If you have misaligned teeth, then it is important to visit an orthodontic facility for a thorough examination. An examination at an orthodontic office includes X-rays of your mouth and facial structure to determine if you have mild to severe malocclusions. For mild to moderate malocclusions, you can often wear clear plastic aligners that are removable. Children cannot wear removable aligners because the devices can create a choking hazard for them, and due to a child's rapid growth, it is difficult for them to have aligners that fit properly. However, teenagers and adults are the perfect candidates for Invisalign aligners that are
customized
to fit over their top and bottom teeth.

UPDATED 28 / 6 / 2017
You will Receive Multiple Sets of Aligners To Straighten Your Teeth
In order to make aligners, your orthodontist will create molds of your teeth, and with modern computer software, you will receive aligners that fit perfectly inside your mouth. Each set of aligners is made in a slightly different configuration to apply pressure against your misaligned teeth. This pressure is designed to shift your teeth slowly into the correct positions to create an attractive smile and strong bite. You will receive a few sets of aligners at your second visit to the orthodontic office, and you will wear each set of aligners for two weeks before switching to a new set.
It Is Possible To Stain the Plastic of Your Orthodontic Aligners
In most cases, you are required to save the old set of aligners so that the orthodontist can check the devices for abnormal wear and tear. By the time that you have completed your treatment plan, you will wear 20 to 25 sets of aligners for six months to one year. It is important to remember that you can stain your aligners, making the items look unattractive inside your mouth. First, you must understand how to keep your aligners looking fantastic. But you must also know how to clean the devices several times a day. Stained aligners will look hideous, but you can prevent discolorations on the plastic aligners by following these guidelines:
• Remove your aligners while chewing food
• Brush and floss your teeth before reinserting the aligners
• Avoid drinking beverages that have artificial dyes
• Use the correct types of toothpaste and mouth rinses
• Don't put foreign objects such as ink pens inside your mouth
• Don't use denture tablets to clean your teeth or aligners
• Avoid placing aligners on colorful surfaces that can stain the devices
• Keep aligners in protective trays to prevent damage
• Drink water frequently to rinse your mouth and aligners
By following these guidelines, you probably won't have stained aligners, but you must still clean the devices to prevent having a buildup of debris that can lead to a bad taste or foul odor. Use these methods to keep your Invisalign aligners looking spotless and smelling fresh.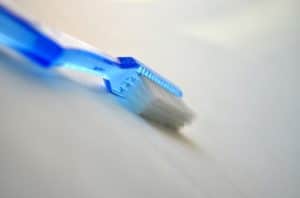 1: Use a Soft Toothbrush To Clean Your Aligners
Your aligners can develop a growth of bacteria, so make sure to have a soft-bristled toothbrush to clean the aligners at least once a day. Use gentle motions to remove debris from the inside or outside of your aligners to avoid damaging the items.
2: Use Antibacterial Soap To Wash Your Aligners
Find a clear soft antibacterial soap at your local drugstore to wash your aligners occasionally. To eliminate bacteria from the plastic, use only a tiny drop of soap combined with cool water to wash the aligners gently.
3: Floss and Brush Your Teeth
It is imperative to brush and floss your teeth at least twice a day to remove food particles that can stain your plastic aligners. If you can also perform oral hygiene at lunchtime, then it is recommended so that you can keep your aligners cleaner.
4: Soaking Your Orthodontic Aligners
You are required to wear your orthodontic aligners for the majority of the day or night. However, if your plastic aligners are discolored, then you can soak the items to remove debris. Place the aligners in the tray that is filled with cool water to soak the devices overnight.
5: Keep Your Aligner Trays Sanitized
Make sure to keep your orthodontic aligner trays sanitized to prevent any transference of debris such as food particles or bacteria. You can rinse your aligner trays with cool water, or you can brush the items with a soft-bristled toothbrush.
6: Clean Your Orthodontic Aligners Frequently
Keep your orthodontic aligners as clean as your teeth by rinsing the items as often as possible. For optimal treatment with aligners, make sure to wear the devices as many hours as possible, including while you are sleeping.
7: Use Cleansing Crystals
The companies that provide the computer software to create your customized aligners also make specialized crystals. These crystals will keep the devices and trays sanitized. Keep a supply of these crystals nearby. And make sure to use the cleanser according to the direction on the package. Soaking your orthodontic aligners for 15 minutes once a week in the crystal solution will keep the devices cleaner.
How To Find a Great Orthodontic Facility In California
At Beach Braces in Manhattan Beach, Calif., you can have an examination from Dr. Panucci. Our orthodontic specialist offers these treatments to straighten teeth:
• Lingual braces that are placed on the backs of your teeth
• Braces with colorful brackets and wires
• Ceramic braces that have color-matching brackets
• Self-ligating braces that don't require metal ties or elastic bands
• Invisalign aligners that are made of clear plastic
We have a friendly orthodontist who cares for children, teenagers and adults by performing a top-of-the-line examination with medical images. Orthodontic Aligners are comfortable and easy to take care of by following the suggested guidelines. With the proper care, your aligners will not become stained, ensuring that you have an aesthetically pleasing smile during your treatment. To schedule your first appointment at our orthodontic facility, contact Beach Braces today at 310-379-0006.
Beach Braces Orthodontics
220 N. Aviation Blvd
Suite A
Manhattan Beach
CA 90266
Phone: (310) 379-0006
7 Ways To Clean Your [Clear Plastic] Orthodontic Aligners
http://www.beachbraces.org/wp-content/uploads/2013/07/Retainers.png
382
529
Dr Patricia Panucci
http://www.beachbraces.org/wp-content/uploads/2016/01/logo-beach-braces-orthodontics.png
Dr Patricia Panucci
2017-06-28 21:17:47
2017-11-23 04:14:46
7 Ways To Clean Your [Clear Plastic] Orthodontic Aligners