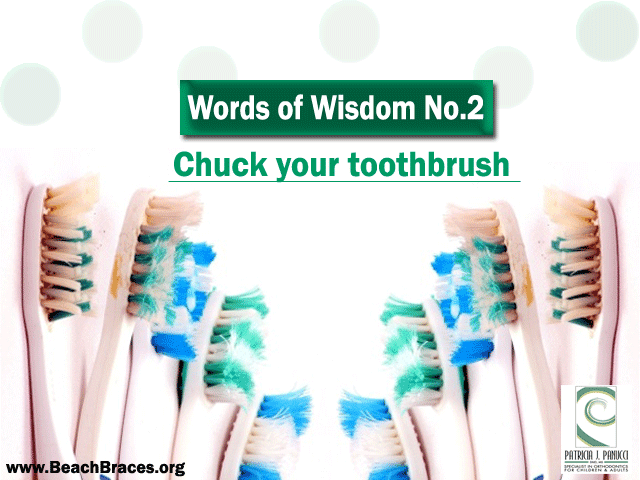 Chuck your Toothbrush

Words of wisdom No.2: "Chuck your Toothbrush"
Complete oral hygiene does not end by just brushing your teeth at least twice a day. Experts advise to also change the head of your electric toothbrush every two to three months. If you don't, you're just putting old bacteria back to your mouth every time you brush your teeth. If you're not using an electric toothbrush, then you need to buy a new one (since you can't change just the head). The time frame of two to three months does not even mean that by merely following this rule of thumb you're complying enough to save your teeth from falling.
Experts also say that you need to look and feel the bristles of your brush. If you can see that the bristles are already torn or are going in different directions, then it's a very good indication that you need to change it even if you've only been using it for a month.
Harold Katz, a Beverly Hills dentist, said that the best way to clean your teeth is to brush them with your toothbrush at a 45-degree angle against your gums. He also added to do it in a circular motion rather just up and down or back and forth motion. Brushing too hard will also damage your teeth and gums so make sure to apply just the right amount of pressure.
You can hold your brush just like when you're holding a pencil to make sure you don't brush your teeth that hard. By following the simple steps above, then you can make sure you're on the right track when it comes to cleaning your mouth and teeth thoroughly.
To read more articles about caring for your teeth, you can visit our blog. Beach Braces has many years experience in providing happy healthy smiles, you can book a complimentary consultation by clicking here.
Dr Panucci – Beach Braces 1730 Manhattan Beach Blvd. Suite B, Manhattan Beach, CA 90266 TEL: 310-379-0006 Fax: (310) 379-7051.
Chuck Your Toothbrush
Related Posts
http://www.beachbraces.org/wp-content/uploads/2013/11/WW2-BB.png
480
640
Dr Patricia Panucci
http://www.beachbraces.org/wp-content/uploads/2016/01/logo-beach-braces-orthodontics.png
Dr Patricia Panucci
2013-11-26 09:00:12
2015-06-02 07:33:03
Loose the Toothbrush