How would you like to get a really cool Braces app for your smart phone? Well you can right here… iBracesHelp!



iBracesHelp is an informative iPhone App for people wearing braces or those who are interested in getting orthodontic work done. The iBracesHelp app is full of useful information, pictures and videos on caring for your braces and what to do if you have problems with your braces.
It's fun, informative and FREE to download from iTunes and compatible with iPhone, iPod touch, and iPad. Click here to get yours right Now!
"I've had this app for a while and I'd say it's really helpful for being priceless. It works great everywhere I go" – by Kansas Native (taken from iTunes)
iBracesHelp – 24/7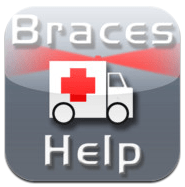 You can visit this 24 hour virtual resource for emergency orthodontic information by clicking
here. It has:
helpful information about caring for braces
information on how to take care of minor emergencies
what to do for if your are feeling discomfort
links to other helpful websites
link to download

iBracesHelp
Have fun with your new iBracesHelp app and share it with your friends, because everyone should love to smile!
Patricia J. Panucci DmD, MS – Specialist in Orthodontics For Children and Adults in Southern California
1730 Manhattan Beach Blvd. Suite B. Manhattan Beach, CA 90266
Phone: (310) 379-0006 • Fax: (310) 379-7051
iBracesHelp