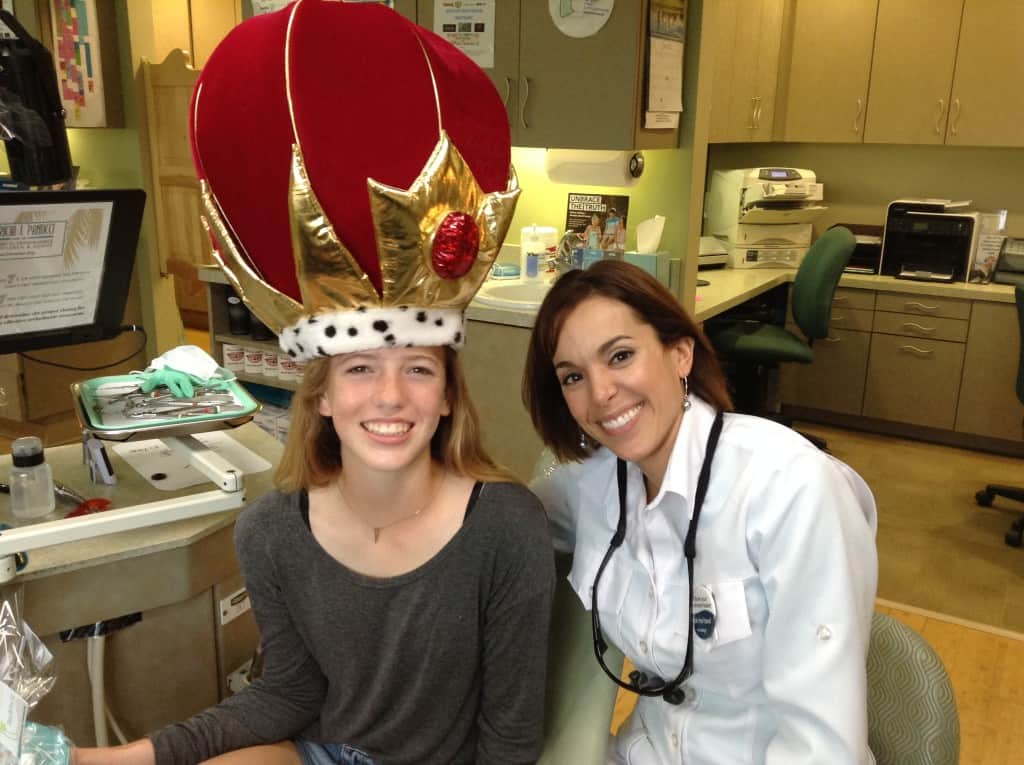 How do the two differ? An orthodontist is a dentistry specialist who has additional education and training. Both specialists are important to your health whether you need only minor preventative checkups or some type of major work.  Taking care of your teeth makes you look better with a cleaner and brighter smile, and allows you to keep as many of your natural teeth as long as possible as you avoid tooth decay and gum diseases.
Education
Both specialists must get a bachelor's degree, be accepted into dental school, and complete a four-year doctoral program.  Upon graduation, a general dentist may begin to practice dentistry as a D.D.S. (doctor of dental surgery) or D.M.D. (doctor of dental medicine).  To further the specialty, the dentist must serve a two or three year residency in orthodontics at a university-affiliated American Dental Association approved program and be certified by the American Board of Orthodontics, the only orthodontic board recognized by the American Dental Association, and will typically use D.D.S. or D.M.D. as well as M.S. for Master of Science.
Orthodontists Are Specialists
An orthodontist is the oral health care provider who specializes in diagnosis, prevention, interception, and treatment of malocclusions, or "bad bites," of the teeth and surrounding structures. Malocclusions can result from crowded, missing, or extra teeth or jaws that are out of alignment. This specialist is responsible for straightening teeth by moving them through bone by the use of bands, wires, braces, and other fixed or removable corrective appliances or retainers. This specialist treats children as well as adults who may wish to improve their appearance and bite.
Which Specialist Do You Need?
Dentist
This is the primary care dental provider who diagnoses and treats over-all oral health care such as regular check-ups, cleaning, teeth whitening, filling cavities, removing or repairing problem teeth, doing gum care, performing root canals, providing crowns as well as bridges and veneers, taking X-rays, and making models for dentures.
Orthodontist
He or she specializes in the alignment of teeth and jaws after diagnosis and then using non-surgical procedures to treat an overbite, underbite, overcrowded teeth, or gaps with braces, wires, retainers and other corrective appliances to straighten teeth and retrain mouth muscles.  In diagnosis and treatment planning, the orthodontist must (1) recognize the various characteristics of a malocclusion or dentofacial deformity; (2) define the nature of the problem, including the etiology if possible; (3) design a treatment strategy based on the specific needs and desires of the individual; and (4) present the treatment strategy to the patient in such a way that the patient fully understands the ramifications of his/her decision.
Different Types of Braces
Metal braces/Traditional braces
These are the metal brackets and wires that most people picture when they hear the word "braces." However, modern brackets are smaller and less noticeable than the notorious "metal-mouth" braces than many adults remember. Plus, new heat-activated archwires use your body heat to help teeth move more quickly and less painfully than in the past.
Ceramic Braces
Ceramic braces are the same size and shape as metal braces, except that they have tooth-colored or clear brackets that blend in to teeth. Some even use tooth-colored wires to be even less noticeable.
Lingual Braces
Lingual braces are the same as traditional metal braces, except that the brackets and wires are placed on the inside of teeth.
Invisalign
Invisalign consists of a series of 18 to 30 custom-made, mouth guard-like clear plastic aligners. The aligners are removable and are replaced every 2 weeks.
Let Us Help
You are welcome to discuss your specific needs with our Beach Braces Orthodontics in Manhattan Beach, California, and get more details by contacting our office to set up an appointment.
Beach Braces, 1730 Manhattan Beach Blvd. Suite B, Manhattan Beach, CA 90266
TEL: 310-379-0006 Fax: (310) 379-7051.
Related Posts
http://www.beachbraces.org/wp-content/uploads/2016/01/logo-beach-braces-orthodontics.png
0
0
Dr Patricia Panucci
http://www.beachbraces.org/wp-content/uploads/2016/01/logo-beach-braces-orthodontics.png
Dr Patricia Panucci
2015-07-28 10:00:00
2015-07-31 22:21:58
Why is a Dentist Not an Orthodontist?