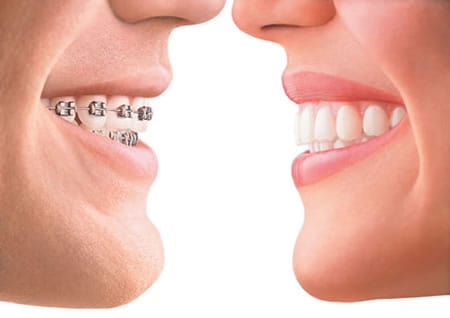 Traditional Metal Braces vs. Damon System Braces vs. Clear Aligners
Today you now have a choice in planning your orthodontic treatment! Taking a proactive part in designing your treatment can help you better understand how appliances work and why you should follow their strict instructions.  Since numerous types of appliances are now available, choosing among them might be hard for those who have little knowledge regarding their advantages and disadvantages. In order to prevent regrets during or after your treatment, it is best to gain broad awareness about orthodontic treatments.  Below is a good comparison of traditional metal braces and clear braces you can use as your guide.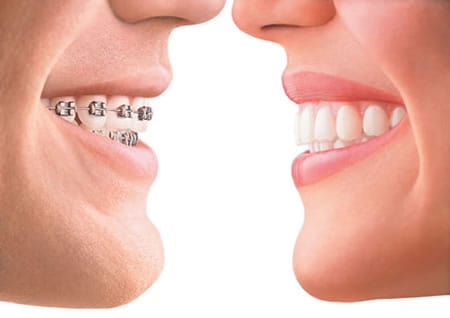 Examining each of them and comparing them with each other can help you calculate which option is best for you. By "best" we mean lesser pain, lesser discomfort, more convenience, lesser cost, and shorter treatment duration.  Since having all these advantages at once is hard to achieve given you have limited resources or other restrictions, you can pick which criteria you prefer the most such as price, duration, or convenience and base your decision on it.
Traditional Metal Braces
Traditional metal braces are known for their strength and durability that can withstand the test of time for patients of all ages. These braces require an elastic rubber band, also called ligature, in order to connect or hold the archwire into the bracket. On the other hand, some orthodontists utilize metal tie wires instead of these elastic bands. These tie wires are twisted around the bracket thus enabling them to apply pressure on your teeth. This pressure will then slowly move your teeth to their desired positions over time.
Advantages
These kind of braces are less expensive compared to the other types of braces thus it is the most commonly used worldwide to keep orthodontists overhead down.  You are allowed you to play with multi-colored ligatures that serve as decorations on your teeth when you smile.  Aside from that, an option for a darker ligature is also available for those who smoke or drink coffee in order to hide staining.
Disadvantages
Traditional metal braces are easier to notice compared to the Damon System Bracket or Damon Clear Braces. Because of this, most teens and adults prefer the smaller Damon Braces or even clear aligners. Furthermore, since this type of braces is cemented on your teeth, proper brushing and cleaning is a must in order to prevent tooth decays.  Lastly, metal braces tend to be uncomfortable at first 3 weeks as your tongue, cheek, and lips get used to it.  The older bracket systems also require more force to get the teeth to move which translates to discomfort for the patient.  Because of this, Dr. Wilson has chosen to not use the older braces systems in his office due to less patient satisfaction upon completion of treatment and a less superior result that the Damon System
Damon System Braces
The Damon Bracket system is the leading orthodontic bracket on the market today.  It is the only "passive, self-ligating bracket" and has a special patent that no other braces system can reproduce.  It's know for getting a more superior result in a shorter time with less discomfort.  It is the "Cadillac" of all braces systems out there today.  It's also know for giving the patient a wider, more esthetic smile that can not be achieved with other braces systems.
Advantages
The advantages over traditional braces or the old bracket systems are many.  Just to list a few:  Smaller bracket, more hygienic, less discomfort, faster treatment times, fewer appointments, a broader/fuller smile, along with many more advantages.
Disadvantages
It is the most expensive braces system out there, which is why most orthodontists don't use it because it increases their overhead.  However, Dr. Wilson has elected NOT to charge a premium or increase his fees because of this since he is able to finish his patients faster and in fewer appointments so this decreases the time needed for each patient as far as overall chair time, which tends to wash out his increased overhead on the bracket.  Thus, this creates a built-in savings for the patient.
Clear Aligners
Having clear braces is a good option for those who don't have the confidence to wear metal braces. Clear braces are made up of plastic and the most common brand is Invisalign. Unlike metal braces, clear braces or aligners need to be replaced once every two weeks.
Advantages
The main advantage of using clear braces is cosmetic. Patients are conscious regarding how they look when friends and families notice their weird appliances such as palatal expander, metal braces, or metal retainers. Aside from that, since clear aligners are removable, it will be easier for you to clean the appliances as well as your teeth. You can even remove them when playing instruments, swimming, or engaging in sports.
Disadvantages
Because of its convenience and comfort, clear braces are slightly more expensive compared to other types of braces.  They are also more fragile so handling them carefully is a must in order not to break them.  Furthermore, there's a higher risk of losing them since you can easily remove them and misplace your braces case or holder.  However, Invisalign Teen has 6 replacement aligners for free built in.
Dr. Wilson is a leading orthodontist in Gainesville GA and is an Invisalign Premier Preferred Provider.
Beach Braces 1730 Manhattan Beach Blvd. Suite B, Manhattan Beach, CA 90266  TEL: 310-379-0006 Fax: (310) 379-7051
Which are your preferred braces?
Related Posts
http://www.beachbraces.org/wp-content/uploads/2013/06/Invisalign-v-Braces.jpg
318
450
Dr Patricia Panucci
http://www.beachbraces.org/wp-content/uploads/2016/01/logo-beach-braces-orthodontics.png
Dr Patricia Panucci
2013-06-04 00:25:00
2016-05-09 00:34:17
Which are your preferred braces?