Welcome to the 2nd Round of
'Where In The World Is Dr. P?'
It's really easy to enter and you stand the chance of winning an iPad mini!
Pick up your traveling 'Dr. P' from the Beach Braces office in Manhattan Beach or download it by clicking on this link: >>> DrPanucciNew.jpg <<<
Take your 'Dr P' cut out and take the best photo you can, the more unique the better.
Then simply visit the Beach Braces Facebook Photo Contest App by clicking here: http://on.fb.me/16ggjOc and then click on the small icon in top right named 'Photo Contest' (indicated with a big red arrow in the graphic below). If you're not a fan already, you will have to 'like' the page first.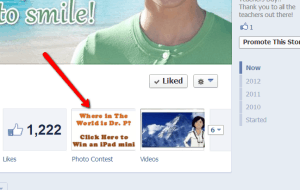 From there, submit your photo together with a great caption and get your friends and family to vote for you. The photo with the most votes wins!
All entries must be submitted by Friday, August 30th and the winner will be announced on Monday, September 3rd 2013.
Good luck!
*The first lucky winner of 'Where is the World is Dr. P' was Grace Klein. Here is her winning picture taken with her brothers & Dr.P at the PEZ candy store, Congratulations!
Where in the World is Dr. P Promotion Terms & Conditions
This is the chance for patients of all ages to use their creativity! If you are going on a road trip, vacation, a football game, a hockey game, an art show, abroad or simply working on a school project, take "Dr. P" with you and capture that special moment!! Patients under 18, please make sure you have your parent's permission before entering this contest.
Terms & Conditions:
Overall contest begins: February 1st 2013
Overall contest ends: December 19th 2013
Contest will be split up into 3 rounds (Feb. 1st – April 30th,  May 1st – Aug. 30th  & Sept.1st – Dec. 19th). One winner will be selected by having the most 'votes' on Facebook, so be creative!! A patient can

only

submit 1 photo per trimester
Winning prize is an IPAD mini
Participating prize is 20 points
Photo Requirements:
The patient & "Dr.P" must both be included in the photo
Make sure you include your location and Patient's name
Add a brief summary of where you are and what you are doing (you can also come up with a creative caption to get more likes!)
Get family & friends to like the beach braces page on Facebook & your picture! Remember, the MOST VOTES WIN!
——–
Dr. Patricia Panucci is a specialist in orthodontics in Manhattan Beach, California.
Where in the World is Dr. P? – Facebook Photo Contest
Related Posts
http://www.beachbraces.org/wp-content/uploads/2013/05/GraceRobbieErnie.jpg
907
960
Dr Patricia Panucci
http://www.beachbraces.org/wp-content/uploads/2016/01/logo-beach-braces-orthodontics.png
Dr Patricia Panucci
2013-05-09 20:32:32
2015-05-08 08:07:13
Where In The World Is Dr. P? - Facebook Photo Contest - Round II