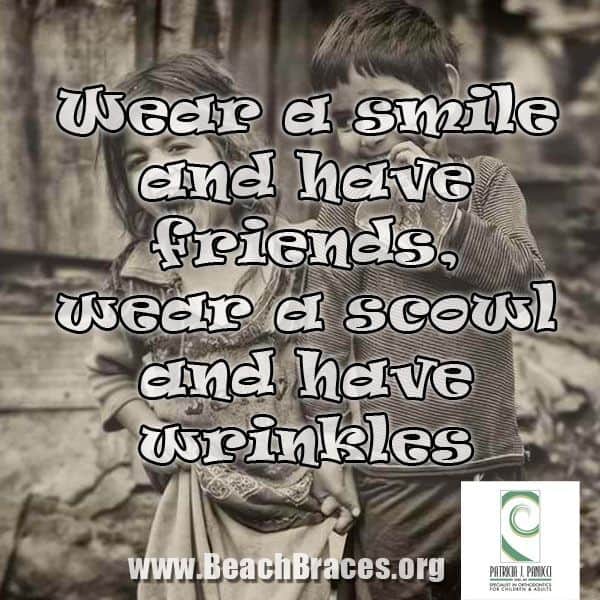 "Of all the things you wear your expression is the most important!"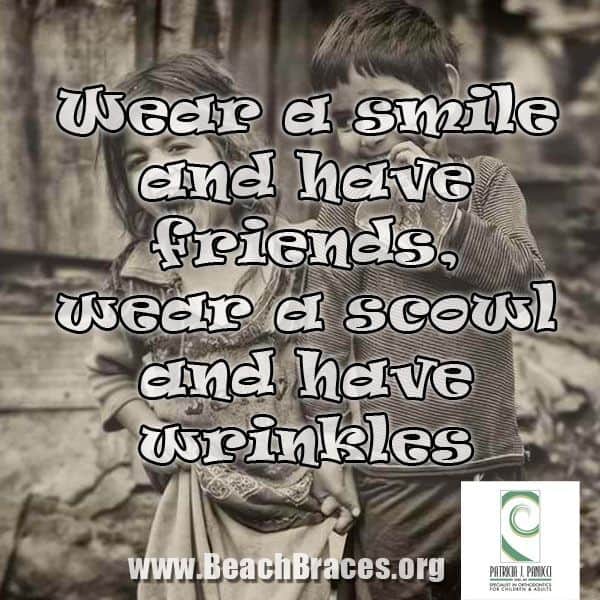 Beach Braces Smile Quote #22 "Of all the things you wear your expression is the most important!"
So many people get extremely hung up on what they're wearing, what Hollywood stars are wearing or what they need to wear in order to be happy and accepted in today's society. Perhaps one of the most powerful fashion items that you can wear is that of your expression.
You could be wearing the ultimate decked out fashion accessory for the season but unless you are happy and confident wearing it then it simply will not make any difference. We see Hollywood stars each and every day in magazines wearing the most expensive fashion items that money can buy but they are wearing them with absolutely beautiful smiles. The smile is the most important part of that entire outfit.
Imagine how different the scene in one of those magazines would look if all of those Hollywood stars in their expensive Hollywood fashions were all standing around looking serious and sad. You can keep this fashion tip in mind for your own life. Regardless of what you are wearing each and every day it's very important to include your expression on your what to wear a list.
Plan your fashion items with care but never forget the most important fashion accessory of your smile. Your smile is what will take center stage with your outfit only being considered after your expression.
Smiles make us approachable, fashionable and stylish and if you are concerned about fashion and always looking your best remember to always include a confident smile with every outfit that you put together
There are a few reasons people don't like to smile apart from being in a bad mood, unfortunately many people lack confidence when it comes to their teeth. Dr Panucci has been creating beautiful smiles across California for years, so why not contact us for a free consultation?
Beach Braces 1730 Manhattan Beach Blvd. Suite B, Manhattan Beach, CA 90266 TEL: 310-379-0006 Fax: (310) 379-7051
 What are you wearing?
Related Posts
http://www.beachbraces.org/wp-content/uploads/2013/06/2tw2QI2kdsM8dzIkHnoCBbymsjUbnFsGwXNPtxl7l8I.jpg
600
600
Dr Patricia Panucci
http://www.beachbraces.org/wp-content/uploads/2016/01/logo-beach-braces-orthodontics.png
Dr Patricia Panucci
2013-07-04 09:10:09
2015-05-08 00:16:41
What are you wearing?