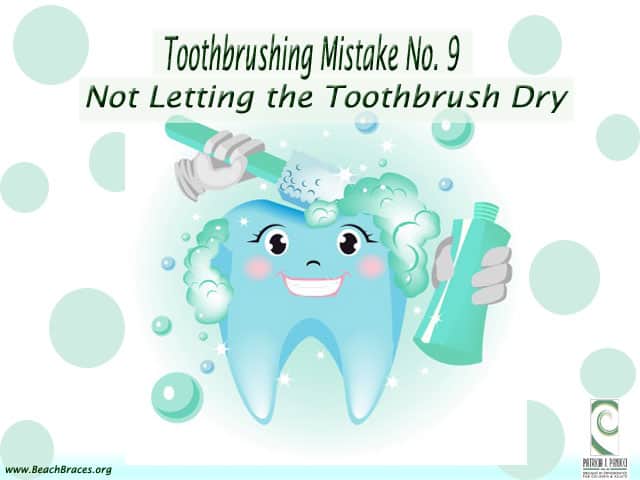 Toothbrushing Mistake No.9: "Not Letting the Toothbrush Dry"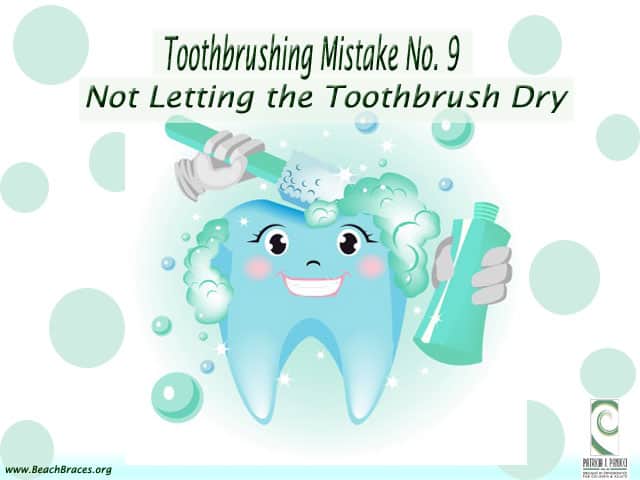 There is more bacteria found in your mouth than any part of your body hence when you brush your teeth, some stays on your toothbrush. People don't usually mind if their toothbrush is not  dry before storing them, and since most people store their toothbrush in the bathroom, a place where airborne bacteria is common, your damp toothbrush is the most appropriate choice for these bacteria to thrive in.
Not letting the toothbrush dry well enough can contaminate it. Contamination happens because there's moisture left in your toothbrush making it a good environment for bacteria and germs to grow. When bacteria builds up during the time your toothbrush is stored, you will be putting more bacteria into your mouth the moment you start brushing. This is not cleaning your mouth at all; this is reestablishing the old bacteria in your mouth through your contaminated toothbrush. Of course, you don't want this happening as the more bacteria in your mouth means more tooth decay.
In order to prevent this, make sure to air dry your toothbrush first before storing it in a cool and dry place. Also make sure that the container allows the air to flow, so your toothbrush can breathe properly and moisture can be prevented. Keeping your toothbrush dry literally means keeping your toothbrush clean and safe from bacteria which loves to thrive in damp places.
Brushing teeth correctly is very important . For more Toothbrusing Facts, visit our blog.
Beach Braces 1730 Manhattan Beach Blvd. Suite B, Manhattan Beach, CA
90266
TEL: 310-379-0006 Fax: (310) 379-7051.
Toothbrushing Mistake No.9
http://www.beachbraces.org/wp-content/uploads/2013/08/TM9-BB.jpg
480
640
Dr Patricia Panucci
http://www.beachbraces.org/wp-content/uploads/2016/01/logo-beach-braces-orthodontics.png
Dr Patricia Panucci
2013-10-15 10:31:14
2013-09-26 01:45:14
Toothbrushing Mistake No.9