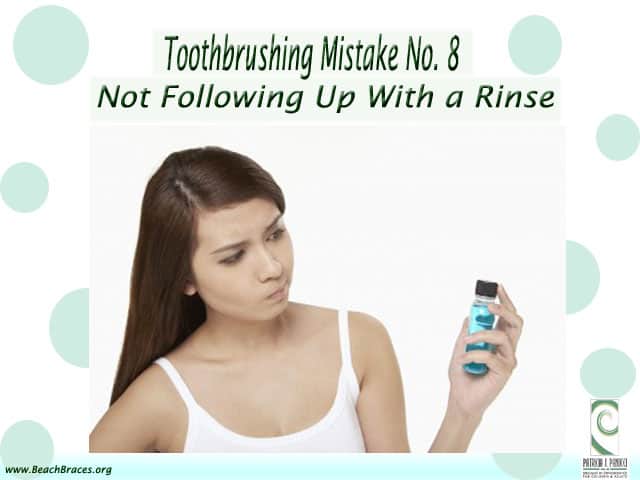 Toothbrushing Mistake No.8: "Not Following Up With a Rinse"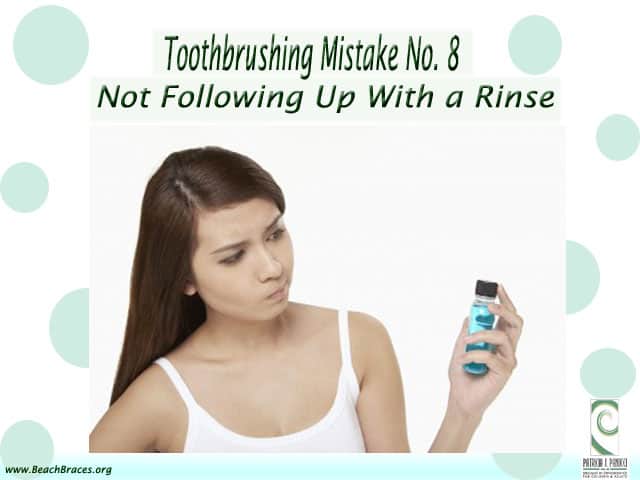 Rinsing the toothbrush after using is a healthy practice since not following up with a rinse can contaminate your toothbrush.A contaminated toothbrush can bring bacteria to your mouth the moment you start brushing, hence you are not cleaning your mouth and teeth at all but putting in more bacteria into your mouth instead. More bacteria means a higher possibility of tooth decay thus defeating the purpose of why people brush their teeth in the first place: to preserve their teeth. So how do you make sure you avoid this kind of scenario?
When rinsing your toothbrush with tap water, make sure there's no debris and toothpaste residue is left. You can closely check the toothbrush for debris and make sure to rinse it with running water. Even if your toothbrush looks visibly clean, it is not a guarantee that there's no bacteria left in the bristles or other parts of your toothbrush. So, the next best thing to do is to let it air-dry and store it in an upright position if possible.
If there are more toothbrushes on your holder, make sure that they are properly separated in order to prevent cross-contamination among the toothbrushes. Also check if the toothbrush holder is properly designed in order to let the brushes breath.
Closed containers have a higher possibility of moisture, and a moist environment is the breeding place of germs and bacteria so make sure you store your toothbrush in a cool and dry place.
For more Toothbrushing Mistake Facts, please visit our blog. If you're in the Manhattan Beach area, you can book a complimentary orthodontic consultation by clicking here.
Beach Braces 1730 Manhattan Beach Blvd. Suite B, Manhattan Beach,
CA
90266 TEL: 310-379-0006 Fax: (310) 379-7051.
Toothbrushing Mistake No.8
http://www.beachbraces.org/wp-content/uploads/2013/08/TM8-BB.jpg
480
640
Dr Patricia Panucci
http://www.beachbraces.org/wp-content/uploads/2016/01/logo-beach-braces-orthodontics.png
Dr Patricia Panucci
2013-10-08 10:26:15
2013-10-21 00:19:59
Toothbrushing Mistake No.8