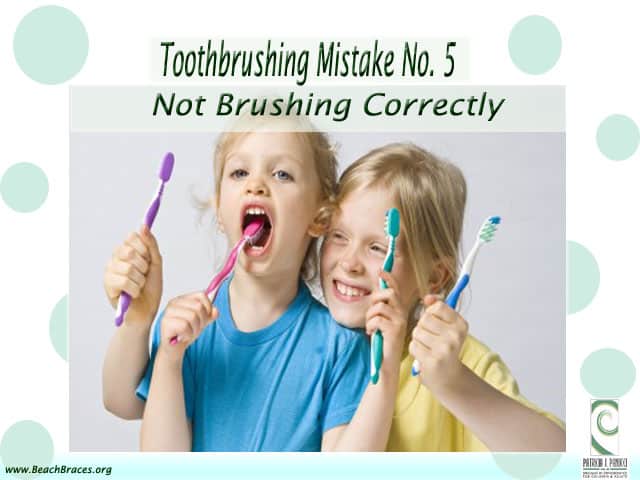 Toothbrushing Mistake No.5: "Not Brushing Correctly"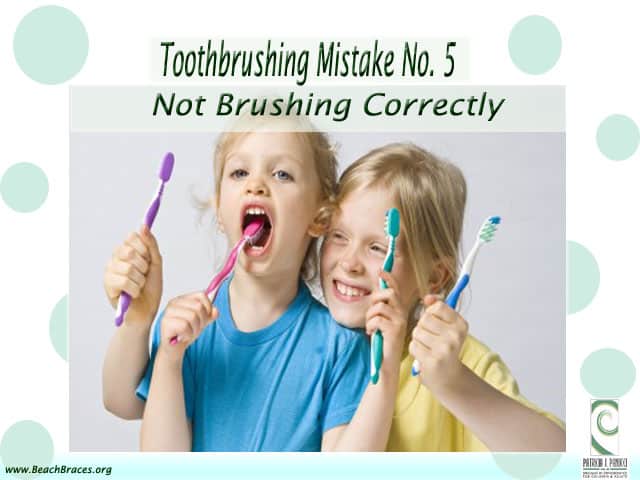 Not brushing correctly can lead to several types of damage including gum abrasions. It is important to make sure you are brushing in proper strokes every time in order to keep your mouth clean and healthy. Long horizontal strokes are the primary cause of gum abrasions. It is necessary to remove plaque (a thin film of bacteria which stick to your teeth) by carefully brushing your teeth in a short vertical or circular motion. According to Sesemann, you should aim your bristles at 45-degree angle on the gum line and softly brush up and down your teeth.
Make sure to include the back of your teeth, the inner surfaces, and the outer surfaces. You can turn your brush facing the top of your molars (chewing surfaces) to make sure all the stuck food and debris are removed. Bear in mind to spend at least 30 seconds for each quadrant of your mouth to ensure that you are spending the recommended time on all your teeth equally. Furthermore, you should also brush your cheeks and tongue aside from the teeth. Bacteria can also build up in these places so it should be included.
Lastly, rinse your mouth thoroughly after brushing to prevent ingesting the fluoride from your toothpaste. You can also combine tooth brushing with flossing just to make sure there are no stones left unturned. Again, brushing correctly is the key to a cleaner and healthier mouth.
Some people do a great job of brushing their teeth, unfortunately a toothbrush cant straighten teeth. If you have a friend or family member who may benefit from orthodontic treatment, click here to refer them. They will be in the best hands in Manhattan Beach.
Beach Braces
1730 Manhattan Beach Blvd. Suite B, Manhattan Beach, CA 90266 TEL: 310-379-0006 Fax: (310) 379-7051
Toothbrushing Mistake No.5
http://www.beachbraces.org/wp-content/uploads/2013/08/TM5-BB.jpg
480
640
Dr Patricia Panucci
http://www.beachbraces.org/wp-content/uploads/2016/01/logo-beach-braces-orthodontics.png
Dr Patricia Panucci
2013-09-17 18:00:00
2013-09-23 22:42:33
Toothbrushing Mistake No.5