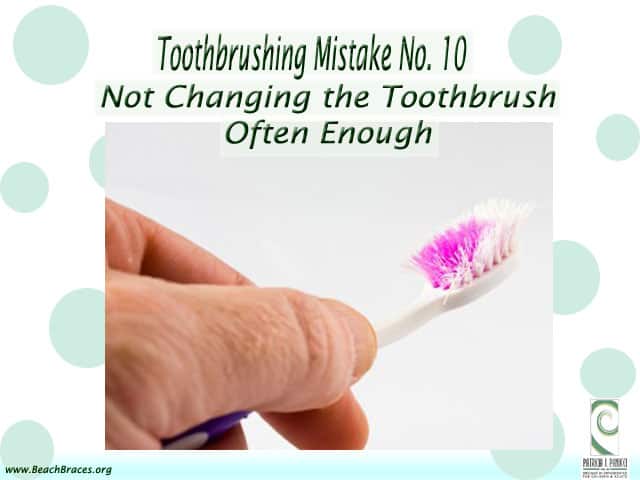 Toothbrushing Mistake No.10: "Not Changing the Toothbrush Often Enough"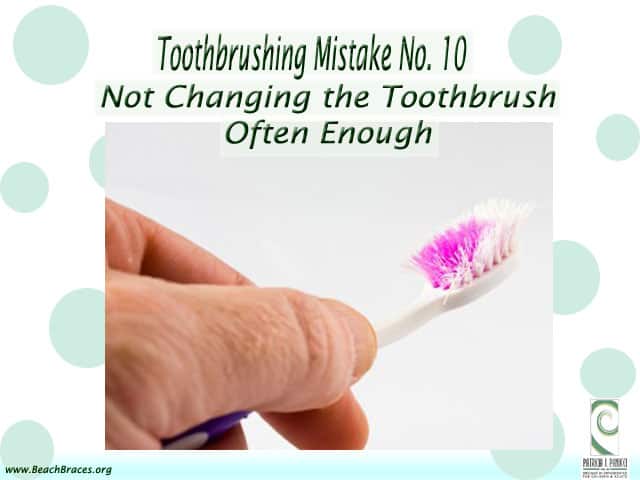 As part of your overall oral health care, changing the toothbrush within the recommended timeline can help you clean your teeth and mouth more efficiently.
When your toothbrush wears down, it becomes less effective as the day goes by, hence more bacteria, plaque and other food debris are not removed properly upon brushing your teeth. If this goes on, even if you brush your teeth three to four times daily, floss regularly, spend two to three minutes of your time when brushing, and perform the right brushing routine, there's still a higher risk of losing your teeth earlier than expected.
So how often should you change your toothbrush in order to ensure that you are effectively cleaning your teeth and mouth? The American Dental Association (ADA) recommends changing your toothbrush every three to four months. However, the timeline alone is not the sole indicator for you to change your toothbrush. Richard H. Price, DMD, the consumer adviser for the American Dental Association, recommends that you perform a visual inspection of the bristles of your toothbrush.
If the bristles look frayed, then you need to change your toothbrush even if it hasn't reached three months yet. Price stressed that once the bristles loses its normal flexibility and start to fall apart, then you have a clear indicator that you should buy a new one. "You need to look more on the state of your toothbrush than just following the time period", Price added.
Are you following Dr Panucci on Twitter? Follow today for useful tips straight to your Twitter profile.
Beach Braces
1730 Manhattan Beach Blvd. Suite B, Manhattan Beach, CA 90266 TEL: 310-379-0006 Fax: (310) 379-7051.
Toothbrushing Mistake No.10
http://www.beachbraces.org/wp-content/uploads/2013/08/TM10-BB.jpg
480
640
Dr Patricia Panucci
http://www.beachbraces.org/wp-content/uploads/2016/01/logo-beach-braces-orthodontics.png
Dr Patricia Panucci
2013-11-05 10:42:06
2013-10-15 21:00:02
Toothbrushing Mistake No.10