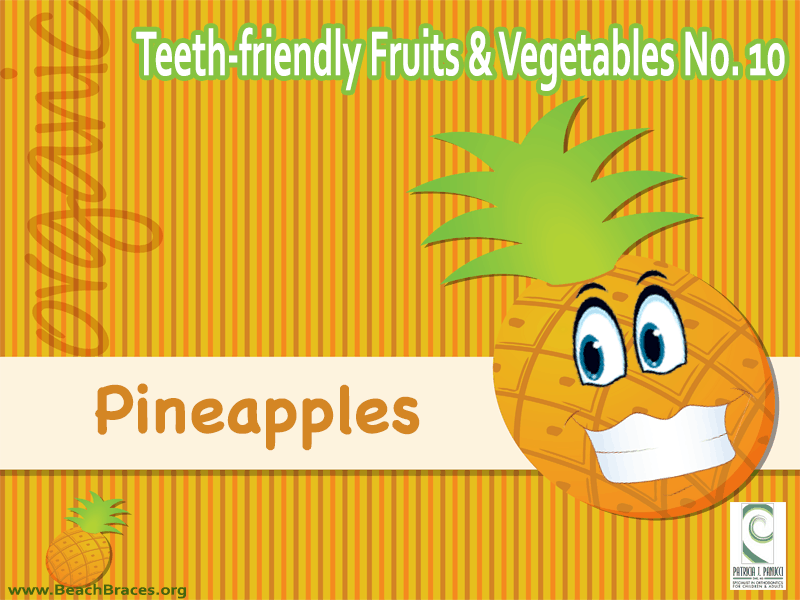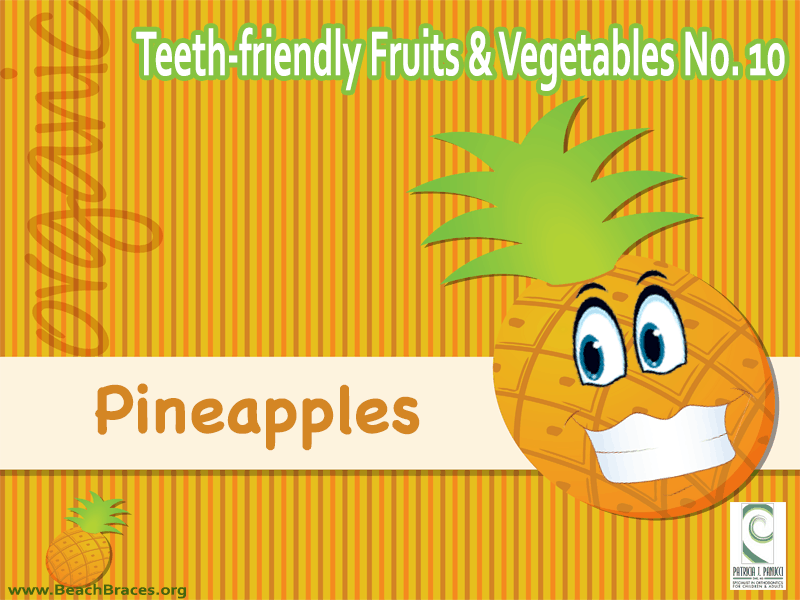 It's important to take care of your teeth before and after braces to ensure a winning smile. One of the best ways of taking care of your teeth involves eating plenty of fresh fruits and vegetables on a regular basis. When it comes to teeth-friendly fruits & vegetables, pineapple can't be beat for its delicious flavor and health benefits.
Health Benefits of Pineapple
Pineapple has long been praised for its healing powers, which is why people are often encouraged to eat it just before and after surgery in order to make recovery go much smoother. Dentists recommend it for patients undergoing oral surgery as often as doctors who are performing procedures on other areas of the body do.
One of the reasons why pineapple aids with healing is the fact that it helps the body create collagen. Collagen is an essential protein used to form the basis for bones, blood vessel walls, and skin.
Other Health Benefits of Pineapple
There are other benefits aside from healing powers that can be enjoyed from eating pineapple. A few of these unique benefits include:
• Easing inflammation, which can be especially important for anyone suffering from gum disease
• Strengthening the bones, which in turn helps strengthen teeth
• Preventing oral cancers
• Fighting infections that might occur in the mouth and gums
• Improving circulation for healthier gums
Pineapple benefits teeth best when it is eaten fresh without any added sugars or syrups. Although fresh pineapple is best, some benefits can still be enjoyed from eating canned pineapple as well.
Eating the right fruits and vegetables is just as important as any other aspect of dental care. If you're interested in straightening your teeth, or would like to learn more ways to help keep them healthy, contact Manhattan Beach Orthodontics at 310-379-0006.
Beach Braces has the right team of orthodontic specialist in Manhattan Beach to help you achieve that beautiful smile.
Beach Braces, 1730 Manhattan Beach Blvd. Suite B, Manhattan Beach, CA 90266
TEL: 310-379-0006 Fax: (310) 379-7051.
Teeth-friendly Fruits & Vegetables No. 10: Pineapples
Related Posts
http://www.beachbraces.org/wp-content/uploads/2015/02/Teeth-Friendly-BB10.png
600
800
Dr Patricia Panucci
http://www.beachbraces.org/wp-content/uploads/2016/01/logo-beach-braces-orthodontics.png
Dr Patricia Panucci
2015-02-26 10:00:00
2015-06-23 12:02:02
Teeth-friendly Fruits & Vegetables No. 10: Pineapples