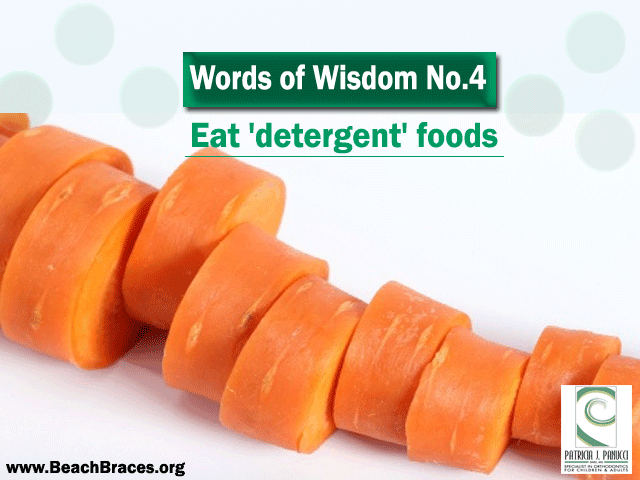 Eat 'Detergent' Foods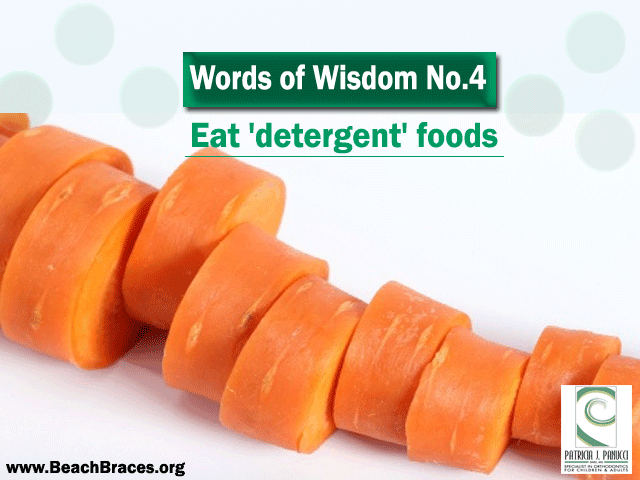 Words of Wisdom No.4: "Eat 'Detergent' Foods"
Not all of us know that there are "detergent foods". As the name implies, detergent foods can help you clean your teeth especially in circumstances where you forgot to bring your toothbrush on a sleep over or on a camping trip. If you don't have any means of cleaning your teeth, then try to see if you can eat some detergent foods such as apple, popcorn, celery, or carrots. These foods are crisp and therefore help clean your teeth when eaten.
A good strategy is to eat detergent foods last, after you have eaten all the other foods you wanted to eat. If some situations prevent you from brushing your teeth right away, the detergent foods mentioned above can be found easily in your friend's kitchen or fridge. You don't have to go all the way to store in order to buy them. Else, you should be buying a new toothbrush instead if you could somehow go to stores.
The list of detergent foods does not end on the items provided above. As long as they possess the same characteristic of crispness, then you can try to see if they qualify as detergent foods or not. Please note that eating detergent foods does not mean you don't have to brush your teeth anymore. You still need to do so the moment you get the chance to brush your teeth.
Overall, knowing about them comes in handy in different situations and you'll be thanking yourself for reading this one day. If there is any questions you would like to ask, please feel free to contact our office to get more advice about taking care of your teeth.
Dr Panucci – Beach Braces 1730 Manhattan Beach Blvd. Suite B, Manhattan Beach, CA 90266 TEL: 310-379-0006 Fax: (310) 379-7051.
http://www.beachbraces.org/wp-content/uploads/2013/10/WW4-BB.png
480
640
Dr Patricia Panucci
http://www.beachbraces.org/wp-content/uploads/2016/01/logo-beach-braces-orthodontics.png
Dr Patricia Panucci
2013-12-10 19:00:57
2013-12-10 02:13:51
Take Care Of Your Teeth With "Detergent" Foods