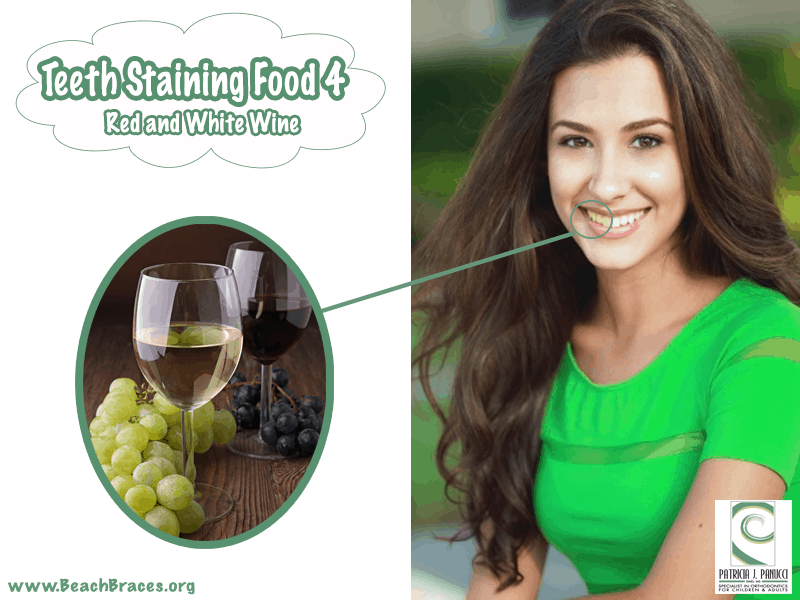 Teeth Staining Food # 4: Red and White Wine
Celebrations, get-together and even casual evenings while sitting on your porch generally all have one thing in common: red or white wine.
While these refreshing beverages may be fun for recreational purposes and other celebratory events, they can wreak havoc on your teeth. Red and white wine both share certain properties that will cause your teeth to become stained after a prolonged period of drinking them.
Before you're forced to look for teeth whitening in Manhattan Beach, let's take a look at why red and white wine stain your teeth.
Why Do Red and White Wines Stain Your Teeth?
There are three components that work together to stain your teeth in both red and white wines:
Natural dyes
 Acids
These three chemicals will lead to your teeth appearing shades darker as you drink red or white wine on a regular basis.
Contrary to popular belief, white wine can be just as bad as red wine when it comes to leaving stains. Dr. Patricia Panucci, the orthodontist specialist in Manhattan Beach regularly sees patients who drink nothing but white wine, yet have yellow or brown teeth.
What About Red or White Wine Stains for People With Braces?
Red and white wines can be even more treacherous for people who have braces. The small areas where toothbrushes and flossing may not be so readily reached can harbor the aforementioned components, which can lead to even darker stains and discolorations of the teeth.
So whether you're conversing with your local orthodontist about affordable braces in South Bay or you're just trying to make your teeth a few shades whiter while ensuring that they're healthy, be sure to try to keep the amount of red and white wines you drink to a minimum. They can be counterproductive to any efforts that ultimately aim to beautify your smile. If you require further information or whitening services in Manhattan Beach, contact Beach Braces right away.
Beach Braces, 1730 Manhattan Beach Blvd. Suite B, Manhattan Beach, CA 90266
TEL: 310-379-0006 Fax: (310) 379-7051.
That Wine is Taking Away the Shine
Related Posts
http://www.beachbraces.org/wp-content/uploads/2014/06/TSF-4.png
600
800
Dr Patricia Panucci
http://www.beachbraces.org/wp-content/uploads/2016/01/logo-beach-braces-orthodontics.png
Dr Patricia Panucci
2014-07-10 13:21:57
2015-01-29 01:09:18
That Wine is Taking Away the Shine