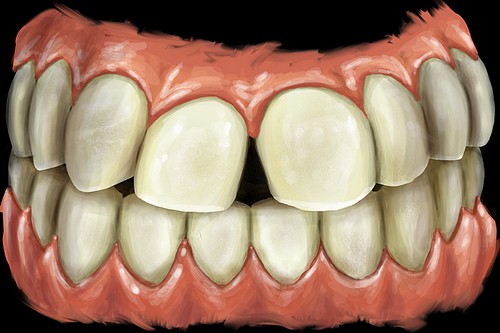 Very Bad, Receding Gum Line. Best Options?
One of the major health problems facing women as their age is receding gum lines. The severity of this problem is often overlooked until the symptoms are glaring and causing continual discomfort. In fact, 60% of women will face the problem of gingivitis sometime in their life. There are many causes of a receding gum line. These include the following:
 Periodontal diseases. Bacteria that builds up along your gum line and eats away at the bone and tissue.
 Your Genes. Thirty percent of the population is susceptible to receding and sensitive gums.
 Build up of plaque: This can result from not taking preventative care seriously. Taking the time to brush and floss prevents the build up of plaque.
 Women's Life Changes: The hormonal issues that women face can cause the mouth and gums to become more sensitive. This can include menopause, pregnancy and pre-menopause.
 Improper Teeth Brushing: Using the wrong toothbrush, not flossing and brushing too hard can weaken gum tissue.
 Other issues can include a misaligned bite or grinding your teeth together when you sleep. Smoking and tobacco use also cause plaque build up.
Recognizing and treating the symptoms of gum disease are important to prevent further problems. The symptoms of gum disease are:
 Bleeding gums during and after when the teeth are brushed.
 Gums that are swollen, tender and darker than usual.
 Gums that are visibly pulling away from the teeth.
 Pockets of decay along gum line.
 Teeth that have shifted or are becoming loose.
 If your mouth tastes metallic or you have consistent bad breath.
 These are the major symptoms but you could have individual signs of gum disease.
If you are struggling with the symptoms of gum disease and gum recession, there is a hope and relief. In order to have the best treatment, it is important to seek the advice and help of a specialist. If you are looking for orthodontic treatment in Manhattan Beach, Dr. Patricia J. Panucci is an experienced orthodontist in her field.
Surgery is often necessary in cases of extreme gum recession and disease. You can feel confident that Dr. Patricia J. Panucci and our staff at Beach Braces will outline the various possibilities and options to correct your gum recession as quickly and as painlessly as possible. Treatment may be as simple as correcting bad habits such as forced brushing or scaling and root planing to clean the teeth and heal inflammation in the gums. Regular professional cleanings can help as a preventative measure. If the issue was an incorrect bite, then a bite adjustment may be recommended. Soft tissue grafting is a possibility as well in extreme situations. Give us a call today to start the journey towards a healthier smile.
Beach Braces, 1730 Manhattan Beach Blvd. Suite B, Manhattan Beach, CA 90266
TEL: 310-379-0006 Fax: (310) 379-7051.
The Problem of Receding Gum Lines
Related Posts
http://www.beachbraces.org/wp-content/uploads/2014/08/gums.jpg
333
500
Dr Patricia Panucci
http://www.beachbraces.org/wp-content/uploads/2016/01/logo-beach-braces-orthodontics.png
Dr Patricia Panucci
2014-08-19 13:43:50
2016-08-25 23:52:11
The Problem of Receding Gum Lines