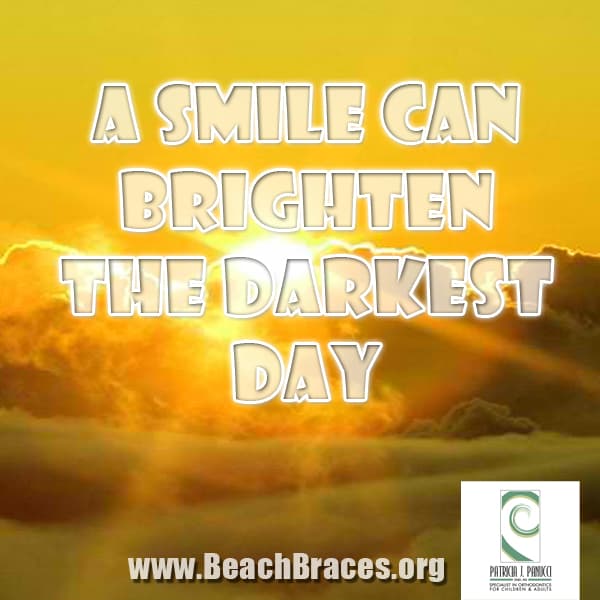 "A smile can brighten the darkest day."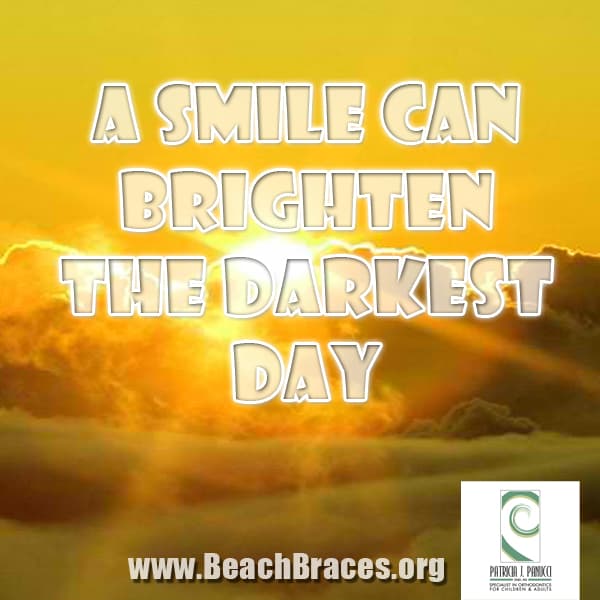 Beach Braces Smile Quote #25 "A smile can brighten the darkest day."
Have you ever had a day where it seemed as though everyone was against you in the world was just closing in on you? On this day did you go home to a loved one and instantly feel better? Is amazing just how one single feeling or a small action on an awful day can completely turn the tide on negative emotions and make us feel great.
If you ever find yourself experiencing one of these awful days go out of your way to find something or participate in something that you know will make you smile. Whether it's talking to a loved one, watching your favorite movie, playing a sport or reading your favorite book go out of your way to try and find something that regularly makes you smile.
On a tough day with a smile you are unstoppable. There is no reason why you should let the world or any of your stress get you down or break you to the point where you feel as though you might not ever smile again. A smile is something that can instantly make you and others around you feel better. Whether it means cracking a small joke to ease tension, or even taking a second just to be kind to someone, smiles can just make us feel good.
It is also important to remember that even if you are having an amazing day, go out of your way to smile and show other people just how you are feeling and how happy you are. Something as simple as sharing a smile with another person could be just the ticket that they need to get through their tough day as well.
Are you confident with your smile ? Contact Dr Panucci if you're not smiling as much as you should. You can get a free consultation by clicking here!
Beach Braces 1730 Manhattan Beach Blvd. Suite B, Manhattan Beach, CA 90266 TEL: 310-379-0006 Fax: (310) 379-7051
A smile can brighten the darkest day
http://www.beachbraces.org/wp-content/uploads/2013/07/darkest.jpg
600
600
Dr Patricia Panucci
http://www.beachbraces.org/wp-content/uploads/2016/01/logo-beach-braces-orthodontics.png
Dr Patricia Panucci
2013-07-23 19:53:00
2013-09-26 00:36:21
A smile can brighten the darkest day