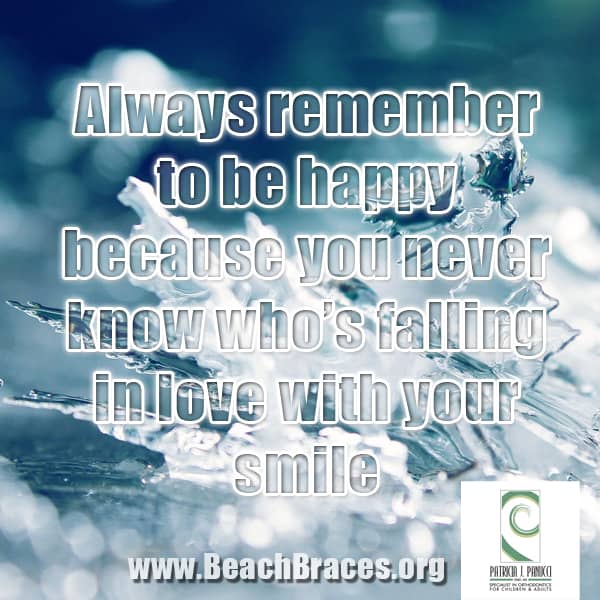 "Always remember to be happy because you never know who is falling in love with your smile"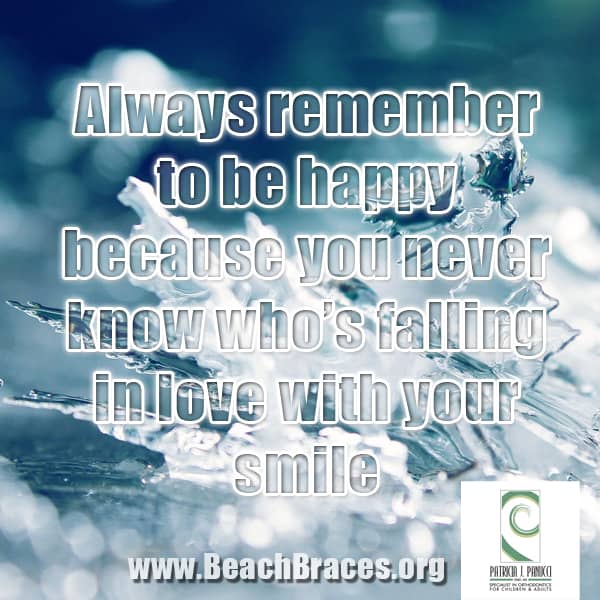 Beach Braces Smile Quote #20 "Always remember to be happy because you never know who is falling in love with your smile"
The dating scene today can be extremely tough. People seem to be extremely focused on connecting online as well as through their mobile devices. Nothing quite beats getting noticed however, and one of the best ways to get noticed is to live life with a smile.
In overwhelming responses in many online dating communities a smile is one of the first things that a person notices in a respective partner. A person is just much more approachable when they have a smile or when they appear happy. It's understandable that many people do not want to talk to somebody who is in a bad mood so if you can try to be as positive and happy as possible wherever you are you have a much better chance of potentially being approached.
Smiles are very important to helping us understand one another and to really connect with one another. Some of the best dates that many people can remember involve activities were both people were constantly laughing and smiling through the entire experience. It is easy to fall in love with somebody for their smile and to really enjoy the time that you have with them if they are always upbeat and happy showing off their confident and beautiful smile.
This is why it's so important to try and remain positive and to be happy wherever you are because you never truly know who might be noticing you or who might be falling in love with your smile wherever you may be. So the next time that you head out, whether you are going to the grocery store, the park or even to work make sure to remain approachable and to show off your smile. You never know who you might meet if you stay happy.
If you don't feel confident with your smile, contact us today for a free consultation.
Beach Braces
1730 Manhattan Beach Blvd. Suite B, Manhattan Beach, CA 90266 TEL: 310-379-0006 Fax: (310) 379-7051
Have you fallen in love with a smile?
Related Posts
http://www.beachbraces.org/wp-content/uploads/2013/06/falling.jpg
600
600
Dr Patricia Panucci
http://www.beachbraces.org/wp-content/uploads/2016/01/logo-beach-braces-orthodontics.png
Dr Patricia Panucci
2013-06-20 20:09:21
2015-05-08 07:35:46
Have you fallen in love with a smile?