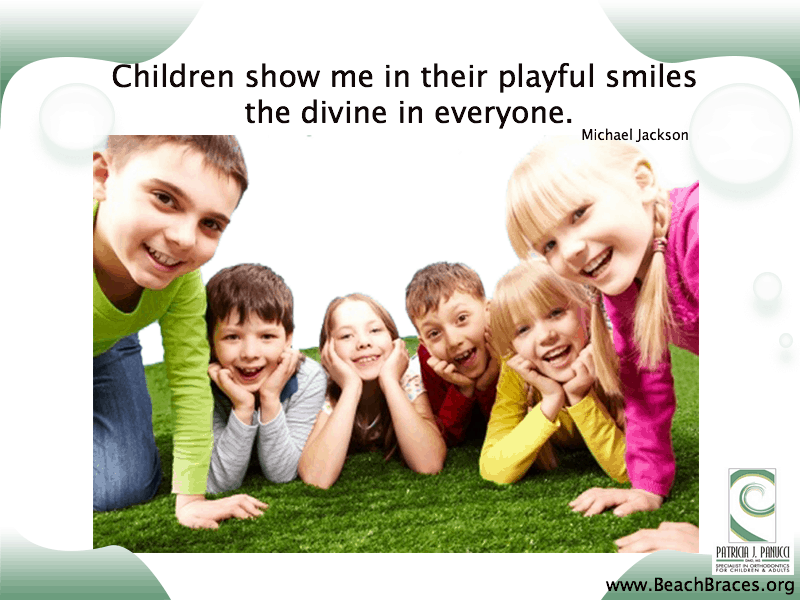 Smile Quote # 33: "Children Show me in their Playful Smiles the Divine in Everyone."- Michael Jackson
Michael Jackson was a beloved entertainer who knew very much about the power of a smile. His work inspired millions of people to let out their smile and he was often seen smiling as he performed and in many of his music videos. You don't have to be a big Hollywood star or performing musician to show off a beautiful smile. In fact when you show off your smile you never quite know who could be watching you or who it might inspire.
You may have noticed that with children, many kids have no problem sharing great big toothy grins regardless of the condition of their teeth. As many kids start to lose their primary teeth, it can create gaps, spaces and other issues which prevent them from achieving a perfect smile or even having a perfect row of teeth whenever they smile. All the same children don't seem to care about the condition of their teeth and readily share their smiles with anyone with complete confidence. As we become adults we start to become more self-conscious of our smiles and it can sometimes be difficult for us to share those same big, toothy childlike grins. Ultimately it is possible to get this confidence back especially if you are willing to work with a team of orthodontic professionals as an adult.
By working with the team of Dr. Patricia Panucci in Manhattan Beach at Beach Braces, it's possible that you can regain the same childlike confidence to bring out your smile once again. Whether you are an adult, a young adult or a child, orthodontic care can help you to unlock confidence in your smile and ensure that you can show off your ideal smile. Contact us today.
Beach Braces, 1730 Manhattan Beach Blvd. Suite B, Manhattan Beach, CA 90266
TEL: 310-379-0006 Fax: (310) 379-7051.
Kids Enlighten a World with their Smiles
Related Posts
http://www.beachbraces.org/wp-content/uploads/2014/03/BB-SQ3.png
600
800
Dr Patricia Panucci
http://www.beachbraces.org/wp-content/uploads/2016/01/logo-beach-braces-orthodontics.png
Dr Patricia Panucci
2014-05-08 13:43:10
2016-04-24 13:13:02
Kids Enlighten a World with their Smiles