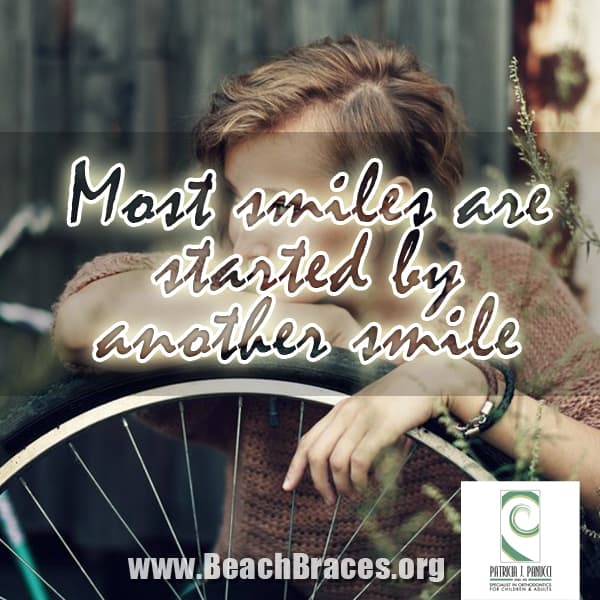 "Most Smiles are Started by Another Smile"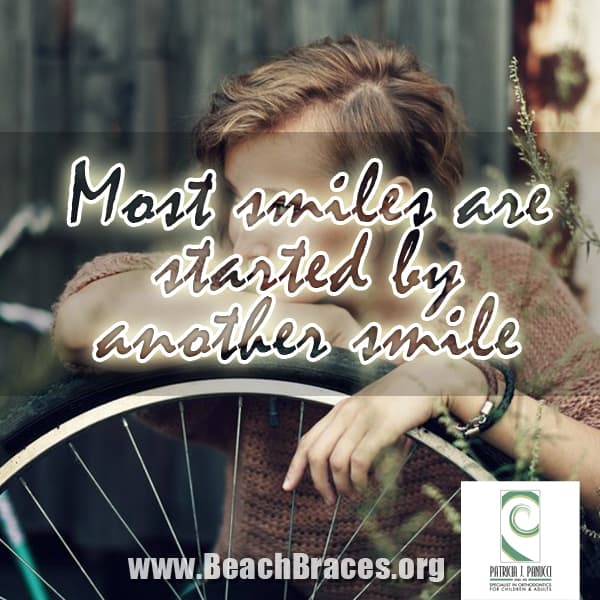 Beach Braces Smile Quote #10 "Most Smiles are Started by Another Smile"
Here is a test for you.  Go to Google.com, click images, and then type smile in the search bar.  Look at  the first 100 images.  Naturally after seeing so many smiles, one cannot help but smile themselves.  Let's face it smiling is contagious.  Now just start smiling at someone.
See their reaction?   They are either going to immediately start smiling back, or they are going to ask what is wrong with you while they are smiling.
Just a small little gesture can affect so many people.  There are some that choose not to smile because they think their teeth are not beautiful enough for a smile.  With corrective braces and other orthodontic options, you too can have a beautiful smile to share with others.
There was a girl who would smile in all her school pictures up until the time that she was in the third grade and other people started making fun of her.  From then on she wouldn't smile for pictures and if she would smile in person, she would just put her hand in front of her mouth.  Her parents took her to an orthodontist for a consultation.
In about 2 weeks she had a mouth full of metal and hopes of one day having a smile that she could be proud of.  A couple years later she was able to take the braces off.  The first time that she saw her smile, she couldn't believe that it was hers.  Now in every picture that you see of her she has her teeth showing and is very happy.
In fact, she smiles all the time.  If you are like this girl, why not give Beach Braces a chance and schedule a consultation.  You too can have the smile of your dreams and share happiness with a smile with the world.
Beach Braces 1730 Manhattan Beach Blvd. Suite B, Manhattan Beach, CA 90266  TEL: 310-379-0006 Fax: (310) 379-7051
The Smile Wheel
Related Posts
http://www.beachbraces.org/wp-content/uploads/2013/04/another.jpg
600
600
Dr Patricia Panucci
http://www.beachbraces.org/wp-content/uploads/2016/01/logo-beach-braces-orthodontics.png
Dr Patricia Panucci
2013-04-04 00:26:25
2015-05-08 08:17:51
The Smile Wheel