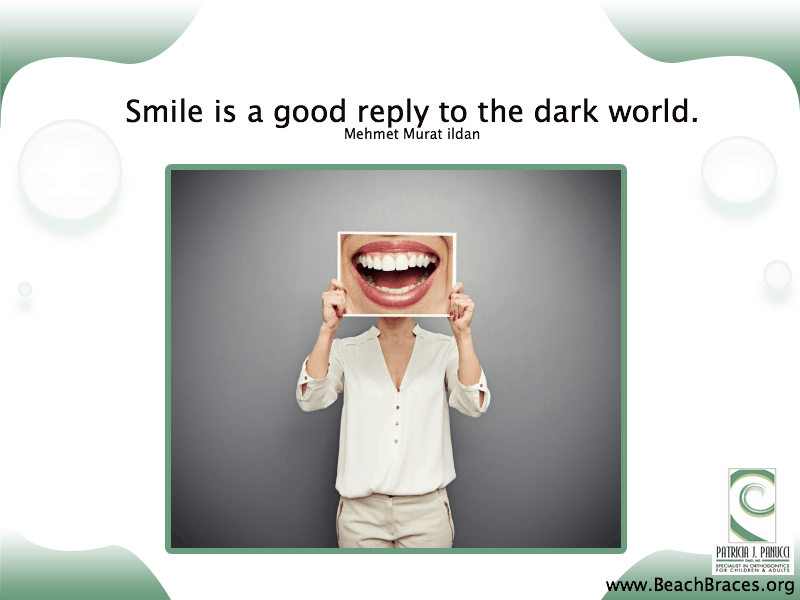 Smile Quote # 36: "Smile is a Good Reply to the Dark World" – Mehmet Murat Ildan
There are a number of factors that try to bring us down every single day. Whether it is, stress from work, pressure with finances, a busy schedule or even issues with relationships it can sometimes be tough to put on a smile. Ultimately, a positive state is one of the best places we can be to achieve our goals and work efficiently. In order to combat the negativity in our lives and to make a difference at overcoming the negative aspects we face every day it's important to face them with a confident smile.
A smile can be like a flashlight reflecting its way through all of the negativity and presenting you with positivity wherever you go. This is because with a smile you become more approachable and many people will make themselves available to help you with many of the things in your life. When mending relationships, dealing with other individuals or even meeting new people it's very important that you bring your best smile to the table so that you can create positive interactions which will eliminate negativity from your life the future.
Even though difficulty may seem to surround you at times, a smile is by far the best way that you can deal with negative thoughts that may start getting you down. Sharing a confident smile with the world around you and having the confidence to smile may involve a bit of help however. If you have ever experienced difficulty with your teeth, or you find it tough to readily smile the team at Dr. Patricia Panucci Beach Braces is here to help. This orthodontics team in Manhattan beach has helped people of all ages to work on their smile so that they have the ultimate tool for dealing with negativity in their lives.
Beach Braces, 1730 Manhattan Beach Blvd. Suite B, Manhattan Beach, CA 90266
TEL: 310-379-0006 Fax: (310) 379-7051.
Smile: The Expression of your Inner Light
Related Posts
http://www.beachbraces.org/wp-content/uploads/2014/05/BB-SQ8.png
600
800
Dr Patricia Panucci
http://www.beachbraces.org/wp-content/uploads/2016/01/logo-beach-braces-orthodontics.png
Dr Patricia Panucci
2014-05-29 12:25:11
2015-01-29 01:56:12
Smile: The Expression of your Inner Light