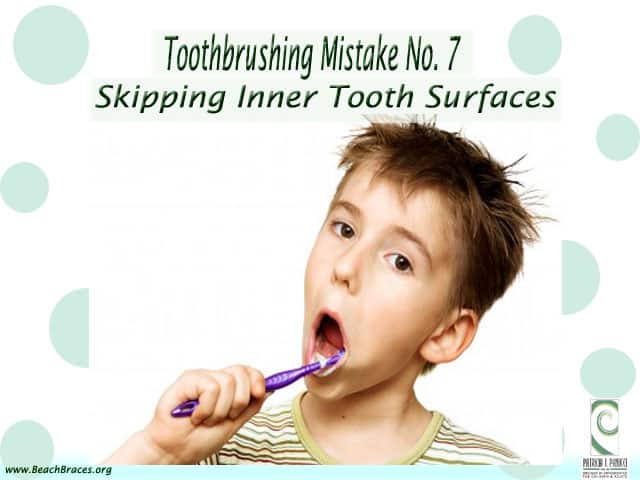 Toothbrushing Mistake No.7: "Skipping Inner Tooth Surfaces"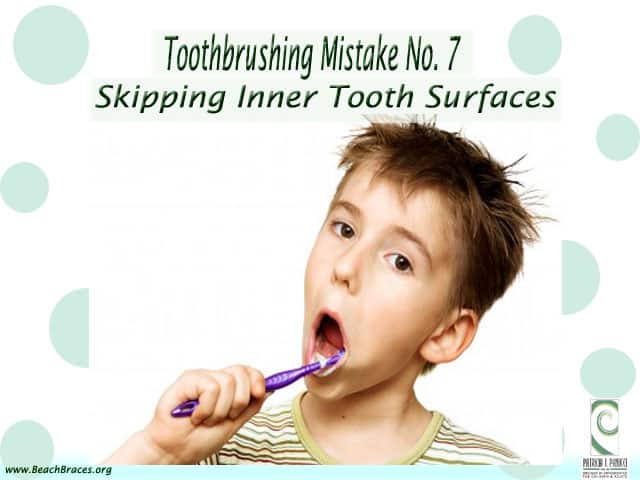 How does skipping inner tooth surfaces (the surface in which your tongue presses against) when brushing affect your overall oral health? Leaving any part of the tooth behind can cause decay from  bacteria which was not removed when brushing.
The bacteria can spread all over the mouth (tongue, cheek, gums, and teeth) which can also damage other teeth which are thoroughly brushed. In order to avoid this scenario, it is best to include all parts of the teeth when brushing, including the inner surfaces of the teeth. The inner surfaces are commonly skipped since not all people are aware of the detrimental effects of skipping them.
Besides, since the inner surfaces of the teeth are not as visible as the outer ones, most people think it is not necessary to clean them properly thus they are making the biggest mistake when it comes to oral hygiene. Richard H. Price, DMD, the consumer adviser for the American Dental Association says that the plaque that you can't see is as important to remove as the plaque that you can see so don't just focus on removing plaque on the outer surfaces. Furthermore, dentists found out that the most skipped area when brushing is the inner surfaces of the lower front teeth so make sure to include this the next time you brush.
Overall, make sure to brush every part of your mouth when brushing in order to ensure that bacteria which causes bad breath and tooth decay is removed.
Are you on Google Plus ? Circle doctor Panucci  by clicking here, doing so you will be the first to know about all the latest dental information.
Beach Braces 1730 Manhattan Beach Blvd. Suite B,
Manhattan Beach
, CA 90266 TEL: 310-379-0006 Fax: (310) 379-7051
Toothbrushing Mistake No.7
http://www.beachbraces.org/wp-content/uploads/2013/08/TM7-BB.jpg
480
640
Dr Patricia Panucci
http://www.beachbraces.org/wp-content/uploads/2016/01/logo-beach-braces-orthodontics.png
Dr Patricia Panucci
2013-10-01 18:30:00
2013-09-26 02:19:26
Toothbrushing Mistake No.7