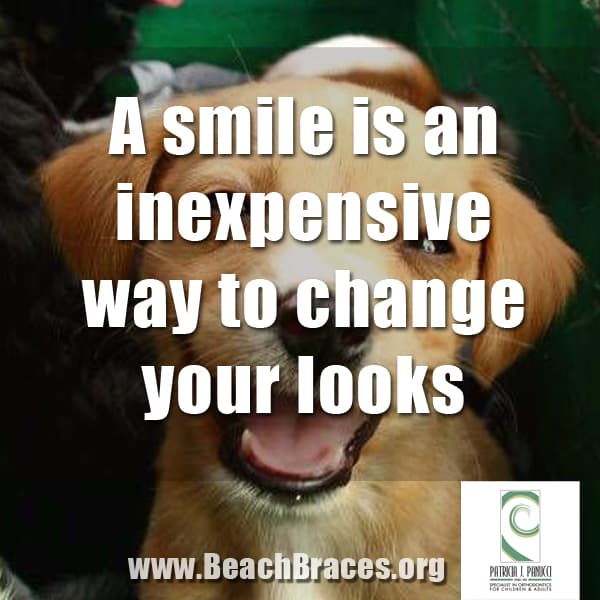 A Smile is an Inexpensive Way to Change Your Looks

Beach Braces Smile Quote  #3
It's often said when you smile everyone smiles with you, this is so true. It's amazing what a difference a smile can make when you walk into a room full of new people, or when you're simply passing someone in the street. Smiling automatically puts everyone at ease and often leads to further social interaction.
Let's face it being smiled at makes you feel good, so next time when you see someone feeling a bit flat, and give them a big smile! It's free and effortless.
Did you ever stop to think smiling is one of the few universal signs that everyone can understand and appreciate. If you thought it was a nod or shake of the head, think again! In Bulgaria and India theses actions have a completely different meaning.
Who smiles the most ?
Thailand dubbed "Smileland" by many probably do it the best and for good reason, numerous research projects have proven that smiling actually reduces stress and boosts the immune system.
Smiles can vary we have the classic "obligatory smile" well he/she smiled at me I better smile back, then we have the "false smile" hmmm never goes down well and there easily detected. Finally we have the "genuine smile" which is a complete crowd pleaser.
So why don't people smile more? Sadly a large percentage of people don't feel comfortable with either the colour of alignment of their teeth. Don't live life not smiling Dr. Panucci at Beach Braces based in Manhattan Beach offers a wide range of treatments for both children and adults. If you are concerned that you may be a bit mature for the "braces look" you can read here about Invisalign here.
Keep smiling people!!
Beach Braces
 1730 Manhattan Beach Blvd. Suite B, Manhattan Beach, CA 90266 TEL:  
310-379-0006 Fax: (310) 379-7051  
A Smile is an Inexpensive Way to Change Your Looks
Related Posts
http://www.beachbraces.org/wp-content/uploads/2013/01/inexpensive.jpg
600
600
Dr Patricia Panucci
http://www.beachbraces.org/wp-content/uploads/2016/01/logo-beach-braces-orthodontics.png
Dr Patricia Panucci
2013-01-27 23:20:05
2017-04-30 21:15:24
Keep Smiling