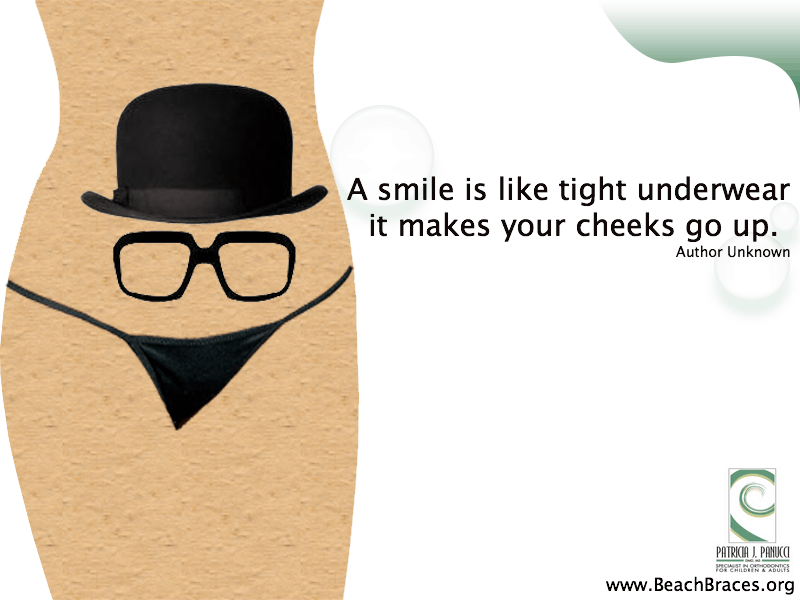 Smile Quote # 30: "A Smile is like A Tight Underwear – It Makes your Cheeks Go up."
A lot of things can make a smile and it's true that we all smile in very different ways but ultimately the best smiles are the ones that make their cheeks go all the way up and expose our beautiful teeth. The best part about sharing one of these big toothy grins was someone else is that most of the time it's returned which can make your smile last even longer.
With a smile on our face we can appear much sexier and much more approachable. Just as a nice outfit or nice underwear might make us feel more confident, in many cases all we need to boost our confidence is a great smile. Our smile is perhaps one of the best weapons that we can use when it comes to meeting new people and gaining acceptance in many social situations. You should never be afraid to hide your smile and should always embrace showing off a great big smile whenever you can.
For many people however, it can be very difficult to show off this big smile and to let their cheeks go up and expose their teeth whenever they want to share a smile with others. Without having the ability to show off their smile people may not know just how much of life that they might be missing out on. A smile is an unspoken communication device and if you are afraid to use it, you never know the types of connections that you might be missing.
If you need help restoring confidence in your smile contact the experts at Dr. Patricia Panucci's Beach Braces. The team can assess your situation and provide you with treatment options to suit your lifestyle and condition. You could be showing off a brand-new confident smile in no time with the help of the team in Manhattan Beach.
Beach Braces , 1730 Manhattan Beach Blvd. Suite B, Manhattan Beach, CA 90266
TEL: 310-379-0006 Fax: (310) 379-7051.
Smile: It Enhances many Lives, Including Yours
Related Posts
http://www.beachbraces.org/wp-content/uploads/2014/03/BB-SQ2.png
600
800
Dr Patricia Panucci
http://www.beachbraces.org/wp-content/uploads/2016/01/logo-beach-braces-orthodontics.png
Dr Patricia Panucci
2014-04-17 13:05:06
2016-12-28 19:04:08
Smile: It Enhances many Lives, Including Yours