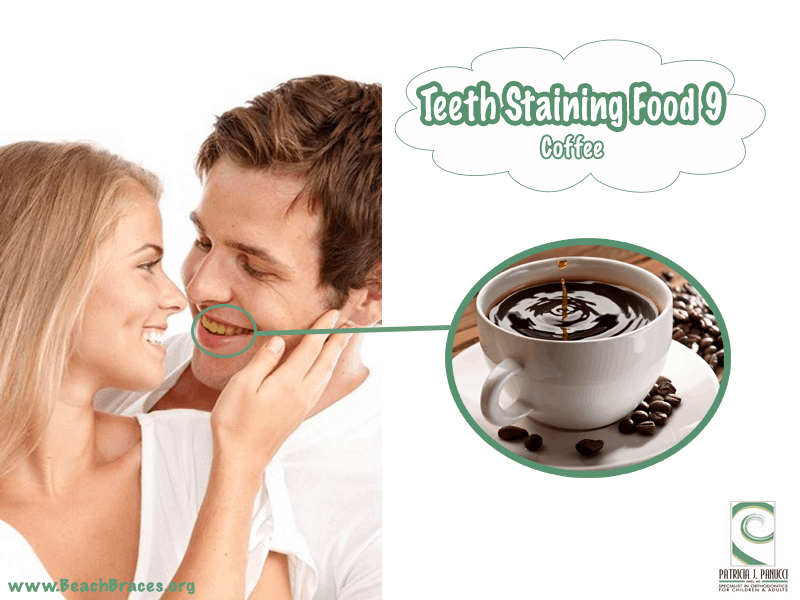 Teeth Staining Food # 9: Coffee
One of the biggest perpetrators of teeth staining and yellowing is the very thing that we drink every morning; coffee. While coffee might give us the pep in our step that we so desperately need to get through our day, it can also eradicate our white smile and leave us with teeth that are less than sparkling. Here are some tips on how you can combat tooth discoloration from your morning cup of joe.
Add a Little Cream – If you love your coffee strong and black, then you're even more at risk for tooth discoloration. Even if you prefer your java dark, add just a little bit of milk or cream. This will reduce tooth staining.
Brush After Every Cup – A lot of people brush their teeth every morning, but then go on to chug coffee until the afternoon. Be sure to brush your teeth once you're done drinking coffee, even if you have to sneak off and do it in the bathroom at work. This will help to reduce staining and discoloration.
Get Your Teeth Whitened – While the above tips will help somewhat to reduce staining, nothing beats getting your teeth professionally whitened. If you're looking for teeth whitening, the specialists at Beach Braces can help. Anyone who is frustrated with the staining that they've experienced from daily coffee drinking will be happy with the results of a professional whitening treatment.
Whether you're looking for teeth whitening or orthodontia services, Beach Braces can help. If you need a Preferred Invisalign provider in Manhattan Beach or affordable braces, our specialists can help you to create the smile of your dreams. Call us today to set up a consultation and find out how we can help you to restore your beautiful smile.
Beach Braces, 1730 Manhattan Beach Blvd. Suite B, Manhattan Beach, CA 90266
TEL: 310-379-0006 Fax: (310) 379-7051.
Decaffeinated Coffee = De-enameling your Teeth
Related Posts
http://www.beachbraces.org/wp-content/uploads/2014/07/TSF-9.png
600
800
Dr Patricia Panucci
http://www.beachbraces.org/wp-content/uploads/2016/01/logo-beach-braces-orthodontics.png
Dr Patricia Panucci
2014-08-14 08:32:52
2015-01-29 00:42:03
Decaffeinated Coffee = De-enameling your Teeth