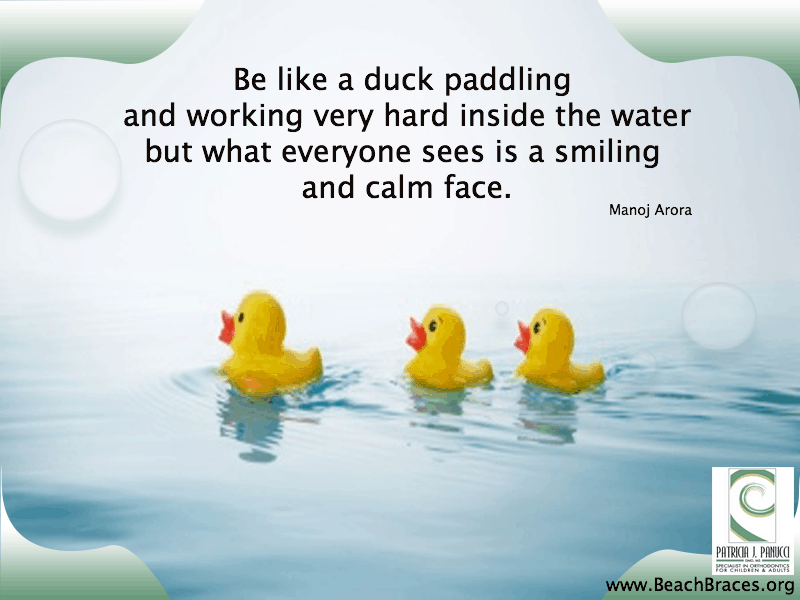 Smile Quote # 32: "Be Like a Duck, Paddling and Working very Hard Inside the Water, but What Everyone Sees is a Smiling and Calm Face."  – Manoj Arora
Some of the strongest and most inspiring people that you know most likely don't carry a lot of negativity with them throughout their lives or even day-to-day. This is because negativity can actually be quite damaging to us accomplishing our goals throughout the day or even long-term. If we want to be inspiring to other people as well as share lots of positive energy with others the easiest way we can do this is by sharing a smile.
A smile is the perfect way that we can show everyone that we are in control, feeling positive, and that we are approachable. Many people think ducks are cute because they always seem to be smiling and if you carry on with the ducks example is a good chance that you could be perceived in the exact same way. Ultimately people who smile often are the ones who are more easily approachable and more fun to have around at parties and social functions as well.
For some people however it can be very difficult to share their smile with strangers, family members or even friends. This is because they have difficulty showing off their smile for any number of reasons. Whether you have gaps in your teeth, an overbite, crooked teeth or crowding within your teeth there is no reason why you shouldn't be able to show off your smile. Everyone's teeth are a little bit different and not every human being can achieve perfectly straight teeth. Sometimes people need just a little bit of help to achieve their ideal smile.
The team at Dr. Patricia Panucci can ensure results for anyone who is interested in improving their smile so that they can use it with confidence. Contact Dr. Patricia Panucci for a free consultation today.
Beach Braces,  1730 Manhattan Beach Blvd. Suite B, Manhattan Beach, CA 90266
TEL: 310-379-0006 Fax: (310) 379-7051.
Work Hard, Hide the Frustration
Related Posts
http://www.beachbraces.org/wp-content/uploads/2014/03/BB-SQ7.png
600
800
Dr Patricia Panucci
http://www.beachbraces.org/wp-content/uploads/2016/01/logo-beach-braces-orthodontics.png
Dr Patricia Panucci
2014-05-01 13:33:27
2015-01-30 06:36:10
Work Hard, Hide the Frustration