Why Teenagers Go for Invisalign?
In the past, a trip to the orthodontist for a teenager almost guaranteed a mouth full of metal. While parents reassured these teens that it was "for their own good," the thought of spending a majority of their high school years with hardware on their teeth was devastating. Many people have even opted to live with misaligned teeth as a way to avoid wearing these metal brackets.
Now, however, teens do not have to panic at the thought of having their teeth straightened. In many cases, the use of Invisalign can straighten their teeth without any noticeable hardware on their teeth.
Why Teens Love Invisalign
Being a teenager is hard enough. There is already so much going on in their lives as they grow into adulthood that adding metal braces to the mix can be devastating. As everyone remembers from when they were a teen, being self-conscious is part of the teen years is something that is not often avoided. Adding large metal braces to this factor does not help with self-esteem issues.
Teens have found that using the clear plastic teeth straightening product, however, usually goes unnoticed by their peers. They can slip the device on their teeth and go about their daily routine without much notice to their teeth. If anything, as their teeth, begins to straighten, their confidence grows.
Eat What They Love
Another drawback to metal brackets is that you are restricted from many foods that teens enjoy. Simple pleasures like chewing gum and popcorn are forbidden when you have brackets, and eating an apple is only accomplished by cutting it into bite size pieces. While every orthodontist is going to recommend that their clients avoid candy, teens are bound to indulge and many candies can ruin metal brackets. When you are using this type of teeth straightening product, an indulgence once in a while on candy will not ruin the product.
Easier Oral Care
One of the most difficult tasks for teens wearing metal devices is proper oral care. These teens must take special care for flossing and brushing that go above and beyond a normal tooth care routine. When you are using the Invisalign product, tooth care remains easy, just brushing and flossing; this ensures that the teen will keep up their good oral hygiene routine.
In addition to easy oral care for the teeth and gums, cleaning and maintaining the aligner product is also quite simple. Patients who use this plastic aligner can clean them with specially formulated cleaning crystals each day. These cleaning crystals keep the product sparkling clean, free from plaque or other debris, and eliminate any type of odours that may occur from daily life. The ability to keep this product clean in such an easy manner is very beneficial to teens.
Sports And Other Activities
Being active in sports and other activities can be hampered when your teeth are covered in metal. Since many of these activities are very physical in nature, the chances of having an impact in the mouth area are high and can lead to injuries of the mouth if metal brackets are installed on the teeth.
How This Product Works
The largest reason that teens love this product is because of how easy it is to use and achieve results. There are never any wires to tighten; there are never any brackets to change. You are not required to wear rubber bands in your mouth, and you will never have to wear head gear.
When you decide to use this type of teeth straightening product, the orthodontist takes a mould of your mouth to determine the placement of your teeth and uses this to cast a mould of the teeth straightener. Using a specific calculation method, the aligner is created to gently begin to move your teeth into a different position. Once the aligner is completed, the teen simply slips on the clear plastic device and goes about their day.
About every two weeks a new aligner will be created to continue the straightening process. This process continues until the straightening is achieved. It is really that simple.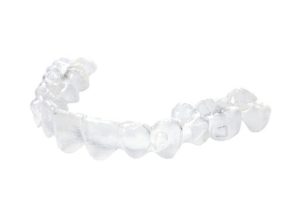 Confidence Levels Are Boosted
Confidence can help you achieve your goals and leads to many pleasurable things in life. Helping teens build confidence is one of the reasons parents choose to have teeth straightening performed for their teens. A person who is happy with their smile always feels more confident.
When you use an invisible straightening product, you are giving your teen a double-dose of confidence. Not only do they understand that their teeth will be straightened when the process is complete, they are comfortable knowing that they will not have large metal brackets installed on their teeth making them feel self-conscious.
This added confidence can make all the difference in the high school experience. Teens that would normally feel left out and excluded can feel confident in their appearance and achieve their desires and goals. Why confidence plays such a large part in the formative teen years is unknown, but it is something that will carry over for them into their adulthood.
Helping your teen achieve a smile that they desire is not as difficult as it used to be. It does not have to involve uncomfortable trips to the doctor for wire adjustments and bracket installations. It does not have to involve avoiding favorite foods or chewing gum. It does not have to involve avoiding sports or physical activities.
Teeth straightening in many cases can simply involve a clear plastic aligner that is easy to use, easy to clean and helps build self-confidence. Parents have grown to love these aligners and many wish that this product had been available when they were teens.
To find out if your teen is a good candidate for this type of teeth straightening program, you are encouraged to make an appointment with Beach Braces Orthodontics by calling 310 379 0006 or visiting our website at www.beachbraces.org. You can schedule an appointment online or over the phone for a consultation on this incredible teeth straightening product.
Beach Braces Orthodontics
220 N. Aviation Blvd
Suite A
Manhattan Beach
CA 90266
Phone: (310) 379-0006
Fax: (310) 379-7051
Skype: Beachbraces
http://www.beachbraces.org/
Why Teenagers Go for Invisalign?
Save
Save
Save
http://www.beachbraces.org/wp-content/uploads/2016/07/9197805_s.jpg
450
300
Guest Post
http://www.beachbraces.org/wp-content/uploads/2016/01/logo-beach-braces-orthodontics.png
Guest Post
2016-07-27 11:11:33
2016-07-27 02:01:24
Why Teenagers Go for Invisalign?