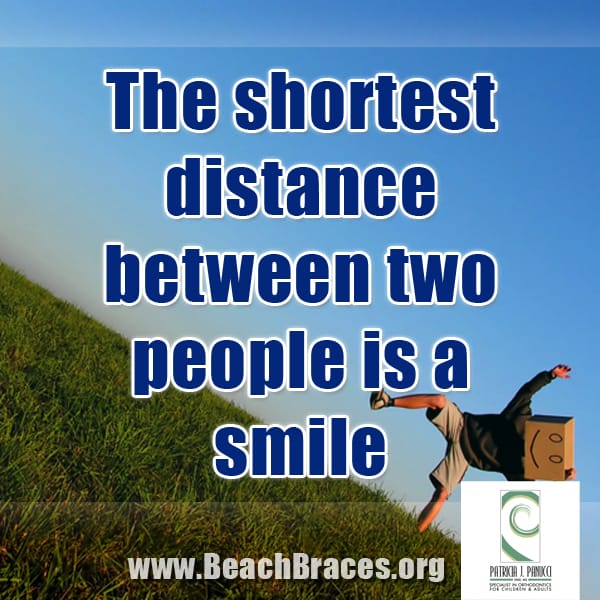 Beach Braces Smile Quote #16"The shortest distance between two people is a smile"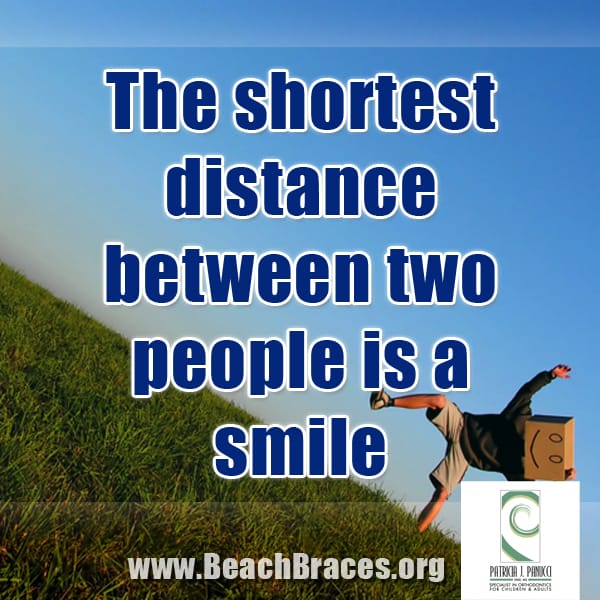 Beach Braces Smile Quote #16 "The shortest distance between two people is a smile"
A great philosopher once said "A smile connects us, you and me…A smile can be a language anyone can learn to speak". Who is this great philosopher you ask?  None other than the great Kermit the Frog!
No matter where you are in the world a smile is universal. It means the same thing in every country. Even if you have no idea how to speak that language, you will be able to share happiness with them.
Scientists have found that when we smile neuropeptides are released in our brain. This allows the rest of our body to know what is going on. So when we smile endorphins are released giving us an energy boost and the ability to fight off stress. It has also been said that endorphins can cause pain relief. With all of these positives we can see how smile and laughter is the best medicine.
Wouldn't that be great to get a prescription from the doctor that said, "Must laugh three times daily. Take with a full glass of water for fast relief" The awesome thing here is that we don't need a prescription to laugh.
All we have to do is just begin smiling! Of course we cannot plan what is going to happen through our entire day. There may be things that happen around you to cause stress or unhappiness. The best way to combat those feeling is to try to stay positive and know that this is not the end of the world and you will be able to smile again soon.
Try your hardest to stay positive and surround yourself with others who do the same. Before you know it you will have that little pep in your step once again, and you will be ready to share your smile with the world!
You can read more smile quotes by clicking here.
Beach Braces 1730 Manhattan Beach Blvd. Suite B, Manhattan Beach, CA 90266  TEL: 310-379-0006 Fax: (310) 379-7051
How Far Away is Your Smile ?
Related Posts
http://www.beachbraces.org/wp-content/uploads/2013/04/shortest.jpg
600
600
Dr Patricia Panucci
http://www.beachbraces.org/wp-content/uploads/2016/01/logo-beach-braces-orthodontics.png
Dr Patricia Panucci
2013-05-23 19:46:54
2015-05-08 08:02:29
How Far Away is Your Smile ?