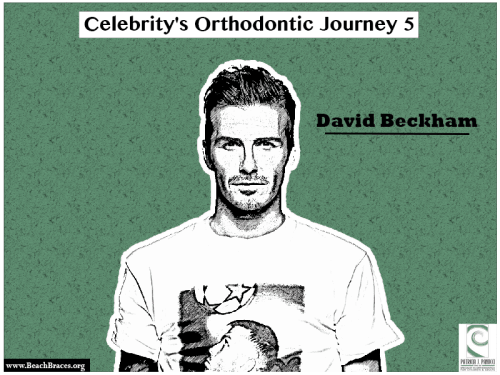 Celebrity's Orthodontic Journey #5: David Beckham
Soccer great David Beckham has a smile that makes women swoon. The moment he flashes his beautiful, pearly whites, cameras begin to snap. Every place that he goes simply lights up the world. However, his teeth did not always look like they do today. In his younger years, David had some issues with the appearance of his teeth. Thanks to some simple adjustments, his teeth have been adjusted to form an incredible smile. If you would like a smile that is the envy of all others, a trip to the orthodontist could be the beginning of your journey.
Learn About Alternatives to Braces and More from David Beckam
For David Beckham, braces were not the answer. While he might have some minor issues with the alignment of his teeth, Beckham chose to go the path of veneers on his front teeth to give his smile a more appealing appearance. From that point, he went on to have whitening performed as well, a procedure that can be done regularly to make his smile glow. Every situation is different. If you have an issue with the appearance of your teeth, rather than the position, you may find that an orthodontist can point you in the right direction. It's up to you to learn about your options.
Find Answers to Your Questions About Orthodontics
Make an appointment with Dr. Patricia J. Panucci and learn how you can have a smile transformation with orthodontic treatment in Manhattan Beach. Take a look at website to begin exploring your options and set up that initial consultation. Dr. Panucci can discuss your concerns, perform an examination, and share your options. You can have a smile that is out of this world, but you have to move forward. Let Dr. Panucci help you to make that smile shine. Call us today!
Beach Braces, 1730 Manhattan Beach Blvd. Suite B, Manhattan Beach, CA 90266
TEL: 310-379-0006 Fax: (310) 379-7051.
Ways to Get a Celebrity Smile
Related Articles
http://www.beachbraces.org/wp-content/uploads/2014/09/Celebritys-Ortho-Journey-BB5-e1410435154867.png
375
500
Dr Patricia Panucci
http://www.beachbraces.org/wp-content/uploads/2016/01/logo-beach-braces-orthodontics.png
Dr Patricia Panucci
2014-09-25 14:00:43
2015-01-28 23:45:43
Ways to Get a Celebrity Smile