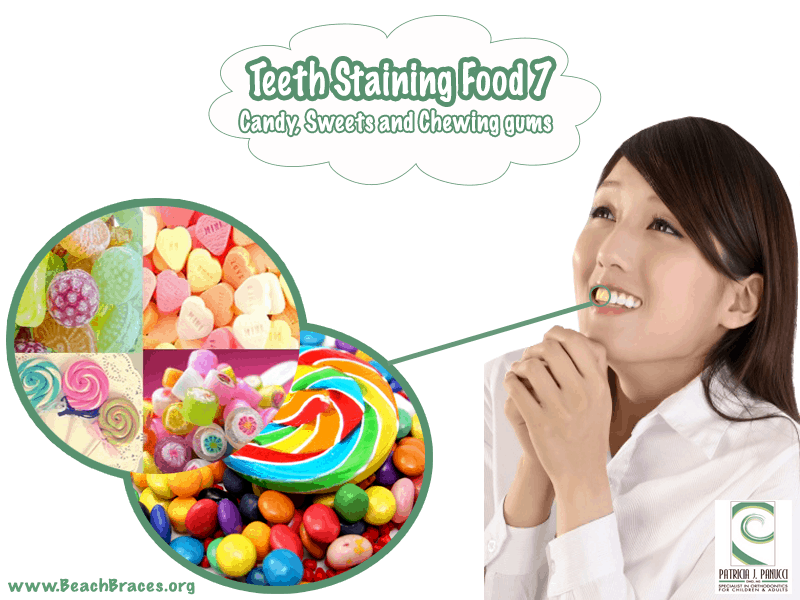 Teeth Staining Food # 7: Candy, Sweets and Chewing Gums:
Let's face it: A life without candy, sweets and gum would be awfully dull. However, most people regret their tasty little indulgences once they find themselves in the dentist's chair. While dentists' first priority might be the health of your teeth, they're still people, and they understand that no one wants to completely sacrifice sweets. Here are some tips on how you can include candy and sweets in your diet while preserving your healthy white smile.
Brush After Eating – Most people know that they are supposed to always brush after eating. However, many people interpret this to mean that they need to brush after breakfast, lunch and dinner. In reality, you need to brush after every time you eat, even if it's just a quick bite of chocolate in the afternoon. Even a little bit of sugar can cause a cavity if allowed to sit on your teeth.
Avoid Caramels and Sticky Candies – While the occasional sticky candy, such as caramel, is alright, you generally want to avoid these sticky candy items. If you have braces, you should really go out of your way to find candies that aren't particularly sticky or thick to enjoy. Sticky candies can get caught in orthodontia and cause damage to your braces over time.
When it comes to candy and dental health, moderation is key. A diet heavy in sweets will be damaging, but a few candy indulgences once in a while won't do severe harm, as long as you always remember to brush after eating them.
If you're looking for affordable braces or teeth whitening in South Bay, CA, then you need Beach Braces. Our talented staff wants to connect you with an experienced orthodontist specialist who can help you and your family to achieve the perfect smile of your dreams. Call us today for more information about how we can help you to create your most beautiful smile.
Beach Braces, 1730 Manhattan Beach Blvd. Suite B, Manhattan Beach, CA 90266
TEL: 310-379-0006 Fax: (310) 379-7051.
Sticky Candies: Extremely, Dangerously Sticky
Related Posts
http://www.beachbraces.org/wp-content/uploads/2014/07/TSF-7.png
600
800
Dr Patricia Panucci
http://www.beachbraces.org/wp-content/uploads/2016/01/logo-beach-braces-orthodontics.png
Dr Patricia Panucci
2014-07-31 16:32:53
2015-01-29 00:54:48
Sticky Candies: Extremely, Dangerously Sticky