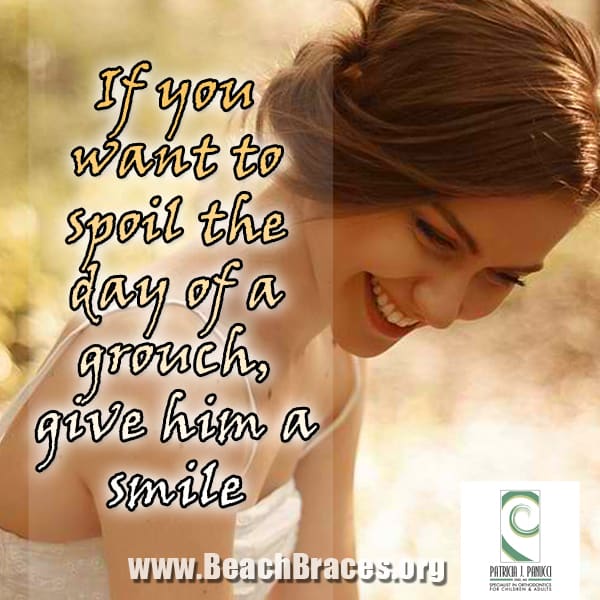 "If You Want to Spoil the Day of a Grouch, Give him a Smile"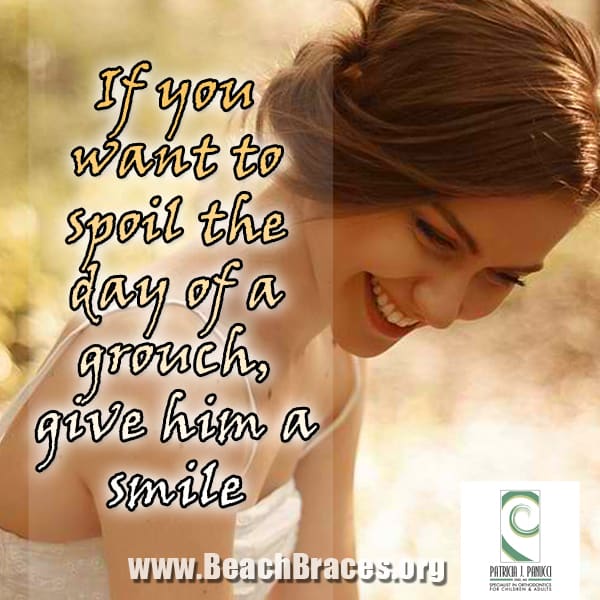 Beach Braces Smile Quote  #4
I know it's hard, but it's often the best way to not only ruin a grouches day but to boost your own, as the simple act of smiling reduces stress and releases mood enhancing endorphins. It's still a mystery why humans are the only species that laugh, but I think I can safely say that in doing so you definitely feel better.
The first iconic smiley face was drawn in 1963 by American commercial artist Harvey Ball in under ten minutes and went on to sell for $45 to an insurance company who wanted to roll out a mood enhancing marketing campaign. If you're curious how far away you can use your new found anti grouch super powers from, the answer is 33 feet.
So next time that grouch tries to ruin your day smile them into mercy. 🙂
If you want to create the perfect smile but are not keen on traditional braces, why not see if you are a eligible for clear braces, namely Invisalign, if you have any further question please contact us using the details below.
Beach Braces 1730 Manhattan Beach Blvd. Suite B, Manhattan Beach, CA 90266
TEL: 310-379-0006 Fax: (310) 379-7051
 If You Want to Spoil the Day of a Grouch, Give him a Smile
Related Posts
http://www.beachbraces.org/wp-content/uploads/2013/02/him1.jpg
600
600
Dr Patricia Panucci
http://www.beachbraces.org/wp-content/uploads/2016/01/logo-beach-braces-orthodontics.png
Dr Patricia Panucci
2013-02-04 00:36:14
2015-05-08 20:28:49
Smile the Grouch Away