Conor Lawless
via
Compfight
cc
">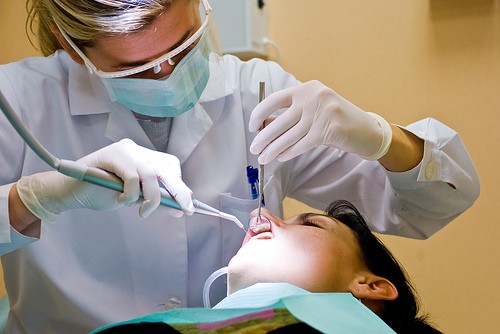 How to Become An Orthodontist Specialist:
A career as an orthodontist is a great choice. An orthodontist is a specialist in dentistry who understands how to straighten teeth. An orthodontist also uses devices to readjust teeth, such as braces. Because advanced skills are needed to become an orthodontist, several years of training is required. An undergraduate program is also required; students must spend two to four years studying at a school. Dental school classes are needed too. Students must spend four years in dental school. After dental school is completed, students must attend a postgraduate orthodontics program. The program lasts two to three years.
Step One – Undergraduate Details And Dental School:
Students must finish the pre-dental requirements before they can train to be orthodontists. Many dental programs only admit individuals who have a bachelor's degree. However, there are a few programs that accept individuals who have a limited undergraduate education.
There are a few required pre-dental courses that students must take. The courses are biology, physics, chemistry, and several other courses. Students can major in whatever subject they choose. Though, because students must take science courses, most individuals choose chemistry and biology. However, all students must take the Dental Admission Test when applying for dental school. The American Dental Association provides the test.
Step Two – Graduate:
Most dental programs last for about four years. After students graduate, they get a Doctor of Dental Medicine degree. During the first few years of school, students spend a lot of time taking physiology courses, microbiology courses, biochemistry courses, and anatomy courses. During the last two years, students spend time with licensed dentists.
Step Three – Finish Postgraduate Orthodontics Classes:
After the dental program is complete, students must apply for orthodontic programs. Most students use a Postdoctoral Application Support Service to apply for the programs. Orthodontic programs last a few years. During this time, students gain knowledge that is helpful, such as tooth movement. Students may also receive training depending on the program.
Step Four – Board Certification:
After the training requirements are completed, students usually earn board certification. The certification displays a student's skill and knowledge in orthodontics. Students who pass a clinical exam can gain certification from the American Board of Orthodontics. Students can take the exam after completing the postgraduate orthodontic program.
Step Five – Getting Licensed:
Orthodontist specialists must have a license. The state regulates the licensing requirements. In most cases, graduating from an established school is a requirement. Students who want to practice a specialty must finish a postgraduate program. In many states, a license lets individuals provide orthodontic and dentistry services.
When students finish school, the pursue careers at established locations, such as Beach Braces. Board certified American Association of Orthodontists companies provide the best services.
At Beach Braces, we have brought together some of the highly qualified professionals in the area to provide you with brilliant orthodontic care in your neighborhood. So go on, feel free to contact us for consultation or any oral issues that you might be facing.
Beach Braces, 1730 Manhattan Beach Blvd. Suite B, Manhattan Beach, CA 90266
TEL: 310-379-0006 Fax: (310) 379-7051.
Pursuing a Career as an Orthodontist
Related Posts
http://www.beachbraces.org/wp-content/uploads/2014/07/1572251373_f9df68a4bb.jpg
334
500
Dr Patricia Panucci
http://www.beachbraces.org/wp-content/uploads/2016/01/logo-beach-braces-orthodontics.png
Dr Patricia Panucci
2014-07-08 12:50:38
2015-01-29 01:17:30
Pursuing a Career as an Orthodontist