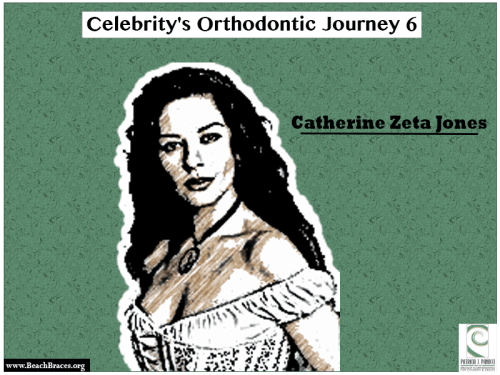 Celebrity's Orthodontic Journey # 6: Catherine Zeta Jones
When Catherine Zeta Jones appears on the screen, she truly lights up the film. One look at that incredible smile and it's easy to see why people fall in love with this beautiful woman. However, a look back at her early years will reveal a much different smile. In her youth, Catherine had some major issues with the alignment and spacing of her teeth. After orthodontic treatment, she had a complete transformation to the point of even making the shape of her face more appealing. If you are struggling with orthodontic issues with your teeth, you owe it to yourself to find out how you can have a smile like Catherine's.
How Orthodontics Changed Catherine's Life
If the thought of braces has been stopping you from seeking treatment for your teeth, take another look at Catherine Zeta-Jones and her pictures before treatment as opposed to after treatment. The difference is remarkable. She began with traditional braces early on. After a two year journey, her teeth were brought into alignment. From that point, she went on to have cosmetic dentistry procedures to tweak her smile. Today, she makes the cameras flash every time she walks into a room. The moment she shows people that smile, she has them from the start. If you want star power in your smile, you need to take care of orthodontic issues first.
Get Answers Today
When you visit www.beachbraces.org, you'll be able to learn more about orthodontic specialist Manhattan Beach, Dr. Patricia Panucci. Make your first appointment with Dr. Panucci and open the door to possibilities. Dr. Panucci will evaluate your teeth, discuss different types of braces, and help you to choose the form of orthodontic treatment that is right for you. You can have a celebrity smile, but you have to call first.
 Beach Braces, 1730 Manhattan Beach Blvd. Suite B, Manhattan Beach, CA 90266
TEL: 310-379-0006 Fax: (310) 379-7051.
Get Guys Attracted to Your Celebrity Smile
Related Articles
http://www.beachbraces.org/wp-content/uploads/2014/09/Celebritys-Ortho-Journey-BB6-e1410435062734.png
375
500
Dr Patricia Panucci
http://www.beachbraces.org/wp-content/uploads/2016/01/logo-beach-braces-orthodontics.png
Dr Patricia Panucci
2014-10-02 15:00:03
2015-01-28 23:33:40
Get Guys Attracted to Your Celebrity Smile