"Smile Sunshine is Good For Your Teeth"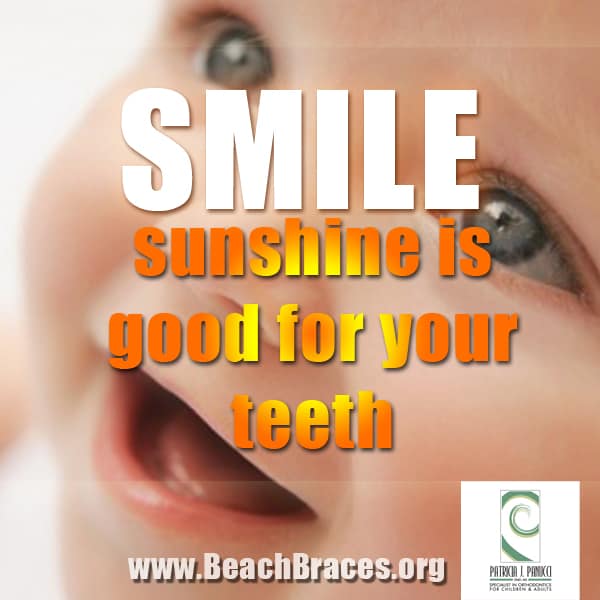 Beach Braces Smile Quote #7 "Smile Sunshine is Good For Your Teeth"
Don't let teeth irregularities blur your smile!
Malocclusions are inherited orthodontic problems that can contribute to tooth decay, gum disease and tooth loss. Additionally, crooked or crowded teeth are hard to clean.
The psychological effects can be devastating in severe cases of malocclusions. Teeth irregularities can affect self esteem and confidence, especially in teenagers.
The best way to prevent all these problems is to consult an orthodontist. Orthodontics is a type of dentistry that seeks to improve the position, appearance and function of abnormally aligned teeth.
Are you curious how do braces feel? The teeth may become sore and may be tender to biting pressures for a couple of days, but after you have become accustomed with the plate, you will forget you are wearing the brace.
You don't want people to notice your braces? You can always opt for brackets that bond behind the teeth, or for invisible plates that are easy to remove and install.
All you have to do now is to find a good orthodontics office.
Alpine and Rafetto is one of the most respected orthodontic providers in Delaware. Dr. Ray S. Rafetto and Dr. Mark R. Fiss, the founders of Alpine and Rafetto, are using SureSmile, a technology that enhances patient comfort, reduces the trips to the office and shortens the treatment period. SureSmile utilizes wires that memorize the shape of your teeth. This technology creates a better smile in less time than metal braces.   Request an exam now!
Wear a SureSmile brace and grin happily ever after!
Beach Braces 1730 Manhattan Beach Blvd. Suite B, Manhattan Beach, CA 90266TEL:   310-379-0006 Fax: (310) 379-7051
Keep Smiling Sunshine
Related Posts
http://www.beachbraces.org/wp-content/uploads/2016/01/logo-beach-braces-orthodontics.png
0
0
Dr Patricia Panucci
http://www.beachbraces.org/wp-content/uploads/2016/01/logo-beach-braces-orthodontics.png
Dr Patricia Panucci
2013-02-26 18:54:58
2015-05-08 20:25:34
Keep Smiling Sunshine