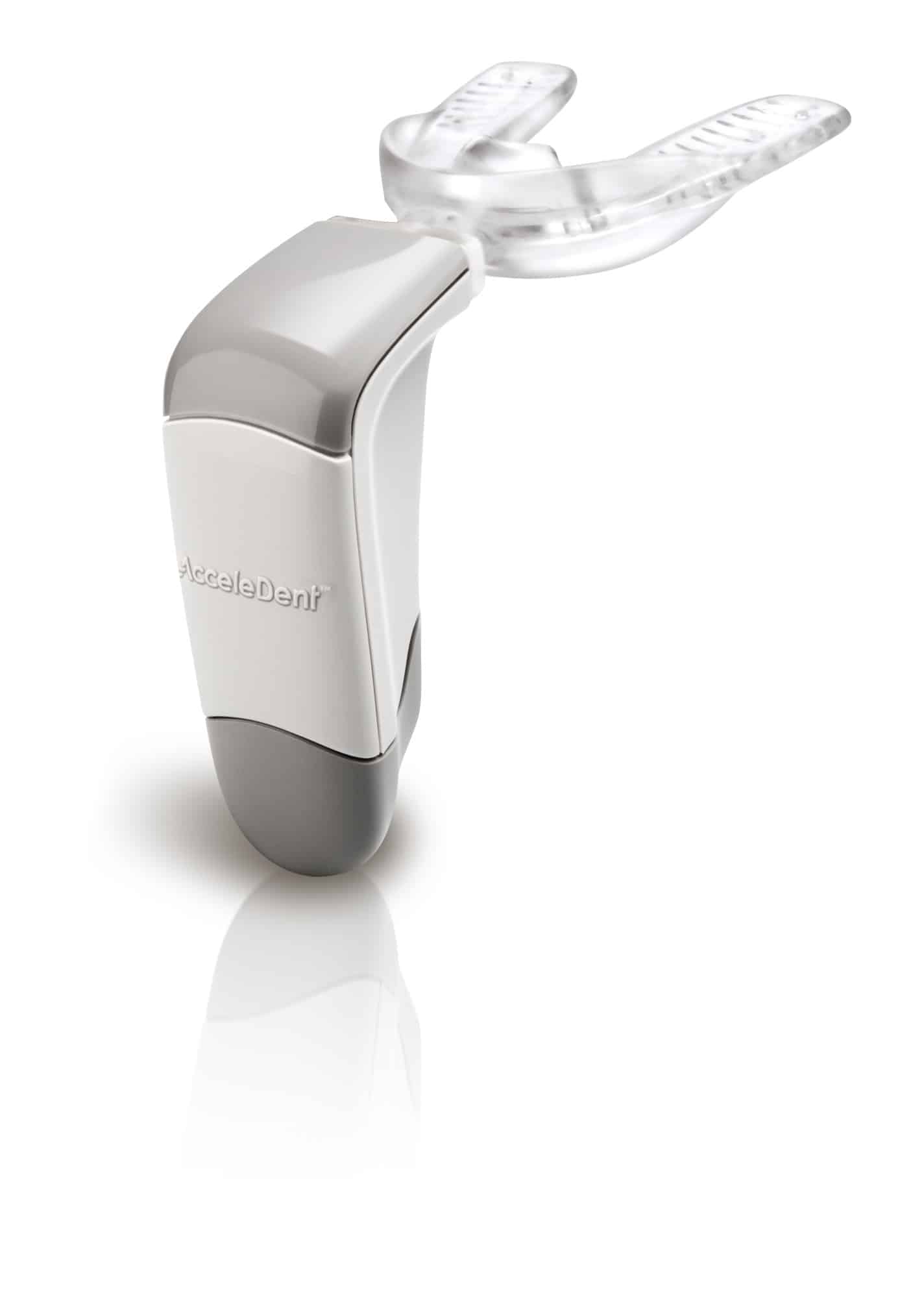 Acceledent – Faster and More Comfortable Orthodontic Treatment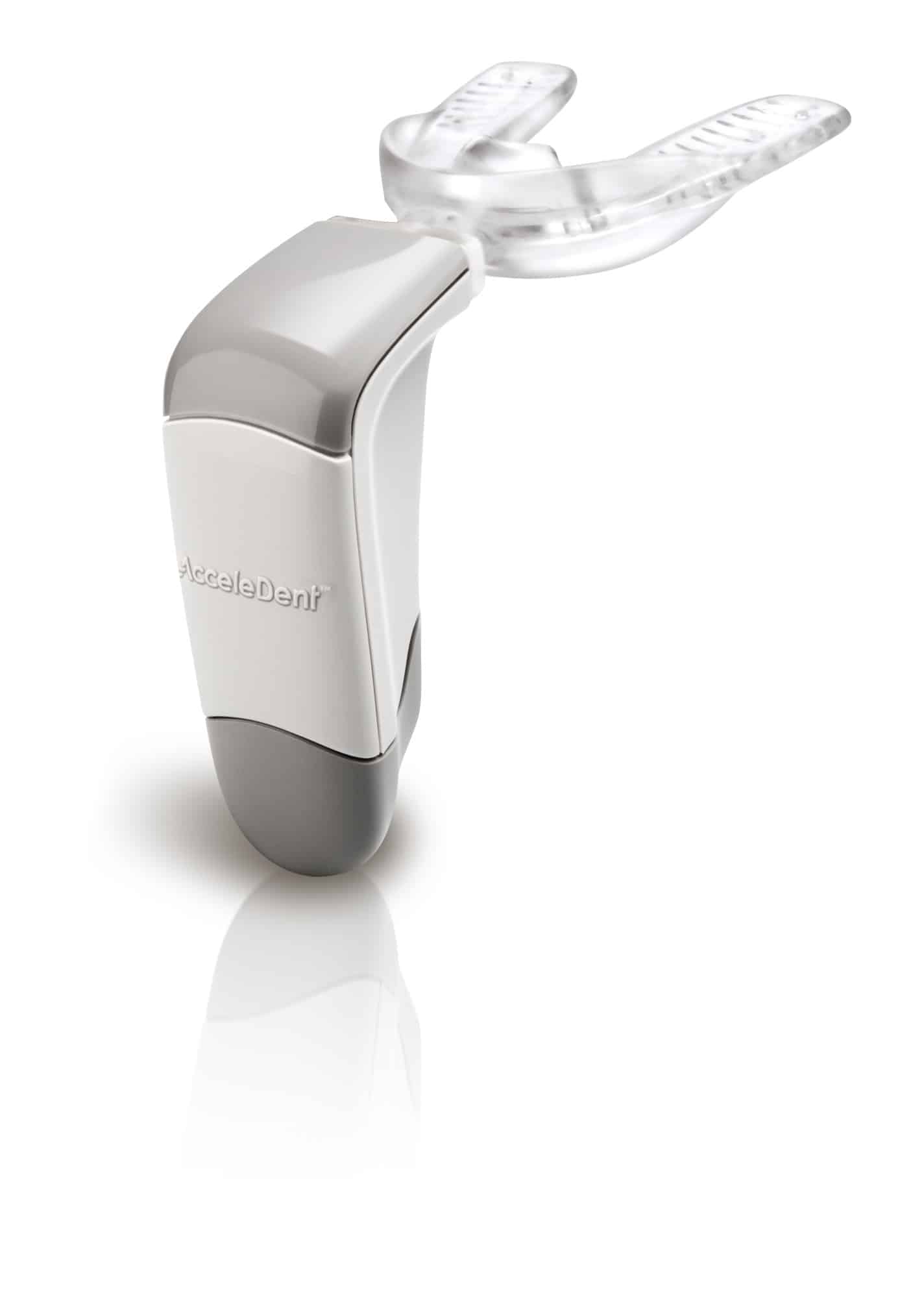 Braces are able to straighten teeth by the application of force as a means of realigning them gradually by a reshaping of the surrounding bone. How long it takes for this procedure to complete will differ greatly depending on the person. However, it usually takes more than a year. As a way of making this process go faster, OrthoAccell Technologies has created the AcceleDent system. Vibration is utilized by the appliance, speeding up the process dramatically. It is an appliance that is non-invasive and removable. A person will wear the appliance in his or her mouth for only 20 minutes each day. Since the process of straightening the teeth has been cut down considerably with this appliance, it is perfect for making 6 month smiles. The appliance is completely FDA approved, so you can be rest assured that it has been thoroughly tested and is safe for you or your children to use.
Clinical trial:
AcceleDent was the subject of a randomized clinical trial that proved beyond the shadow of a doubt how effective the appliance is when it comes to accelerating the process of straightening teeth. In the trial, the appliance increased the movement of teeth by 106 percent during the phase of initial alignment and between 38 and 50 percent during closure of extraction space. The study did not reveal any signs of teeth roots being damaged or other problems that might have been caused by the appliance.
Many years in development:
The increased rate of tooth movement that the study revealed basically means that the time a patient undergoes orthodontic treatment can be shortened by a minimum of five months during the initial two stages of the treatment. The science that this appliance uses took years of research to successfully develop. Dr. Jeremy Mao, Professor of Orthodontics at Columbia University College of Dental Medicine, is one of the people responsible for the device's creation. His work was critical in understanding the therapeutic effect that pulsatile forces can have in the acceleration of bone modeling.
How does Acceledent work?
Patented SoftPulse Technology applies micropulses that are specifically calibrated for each individual patient. These micropulses will gently cause the acceleration of teeth movement. The direction your teeth are going will be monitored by your orthodontist during the entire process. Conventional orthodontic treatment is perfectly complimented by the safe and gentle acceleration of the process of bone remodeling. The SoftPulse Technology micropulses are made to exert up to eight times less force than that of an electric toothbrush. This will make your orthodontic treatment process much easier than if you were wearing traditional braces.
If you are not happy with your teeth and you want to find out what your options are, please contact Beach Braces today and schedule a free consultation. Dr. Patricia J. Panucci and our friendly and professional staff will help you to obtain a smile you can be proud of. Beach Braces is conveniently located in Manhattan Beach. For more information about the services we offer, visit our website.
Beach Braces, 1730 Manhattan Beach Blvd. Suite B, Manhattan Beach, CA 90266
TEL: 310-379-0006 Fax: (310) 379-7051.
Acceledent: Accelerating Orthodontic Procedures
Related Posts
http://www.beachbraces.org/wp-content/uploads/2014/07/AcceleDent-Aura-with-mouthpiece.jpg
2018
1424
Dr Patricia Panucci
http://www.beachbraces.org/wp-content/uploads/2016/01/logo-beach-braces-orthodontics.png
Dr Patricia Panucci
2014-07-15 02:06:33
2015-09-03 07:52:18
Acceledent: Accelerating Orthodontic Procedures