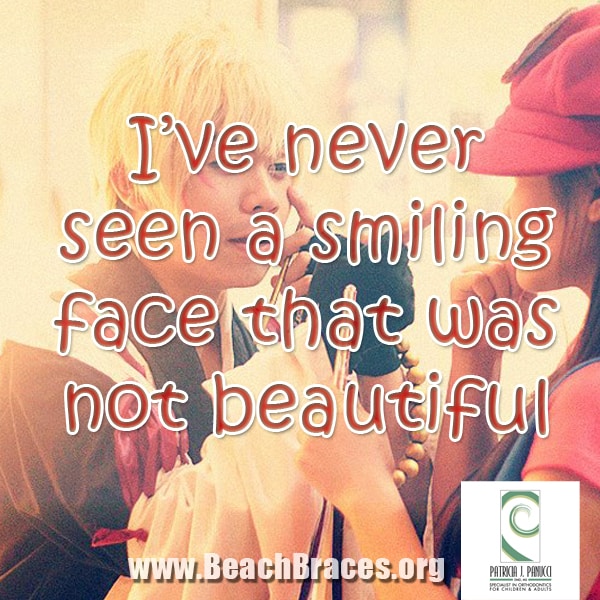 "I've Never Seen a Smiling Face That Was Not Beautiful"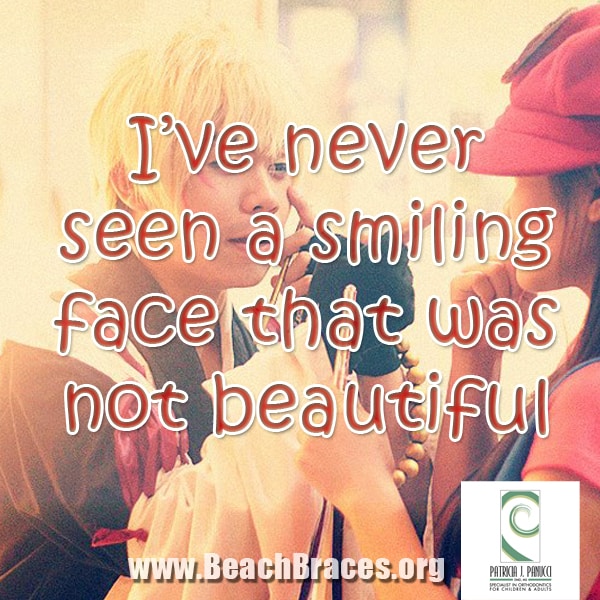 Beach Braces Smile Quote #11 "I've Never Seen a Smiling Face That Was Not Beautiful"
When you are unhappy the first thing that starts to happen is that your face turns sour and your eyes begin to cross and you clench your fists, right? When you are happy your face can brighten up a room.  The corners of your mouth will begin to raise and in some instances you will show your teeth for a full and beautiful smile!  Scientists have proven that smiling causes happiness.
Take a look in the mirror.  Sound out the vowel e and notice how the corners of your mouth extend like they would when you are smiling.  Now think of something that is guaranteed to make you happy.  Your mouth stays the same.  Next sound out the vowel u.  Notice how your mouth draws inward.  Your eyebrows may drop a little.  This action by the face is also seen when we are upset.  Try to be happy and smile while you are sounding out the u.  Impossible isn't it?  Every time that you go to think of a happy thought and smile, it causes your mouth to expand out, making you stop with the u and go to the e expression.
This also works in real life situations.  When you are happy and something makes you mad, it is very hard to keep smiling.   Instead we should think of it as the opposite.  When we are mad we should think of things that make us happy.
Then it is guaranteed that we would not be able to keep that frown on our face and bring happiness into our lives.  Next time you find yourself in a situation where you want to frown or you are upset, think of something funny or a happy memory and let yourself smile.  It will begin to melt your stress away!
Beach Braces 1730 Manhattan Beach Blvd. Suite B, Manhattan Beach, CA 90266  TEL: 310-379-0006 Fax: (310) 379-7051
 Stay Beautiful
Related Posts
http://www.beachbraces.org/wp-content/uploads/2013/04/beautiful.jpg
600
600
Dr Patricia Panucci
http://www.beachbraces.org/wp-content/uploads/2016/01/logo-beach-braces-orthodontics.png
Dr Patricia Panucci
2013-04-15 00:10:06
2015-05-08 08:17:06
Stay Beautiful