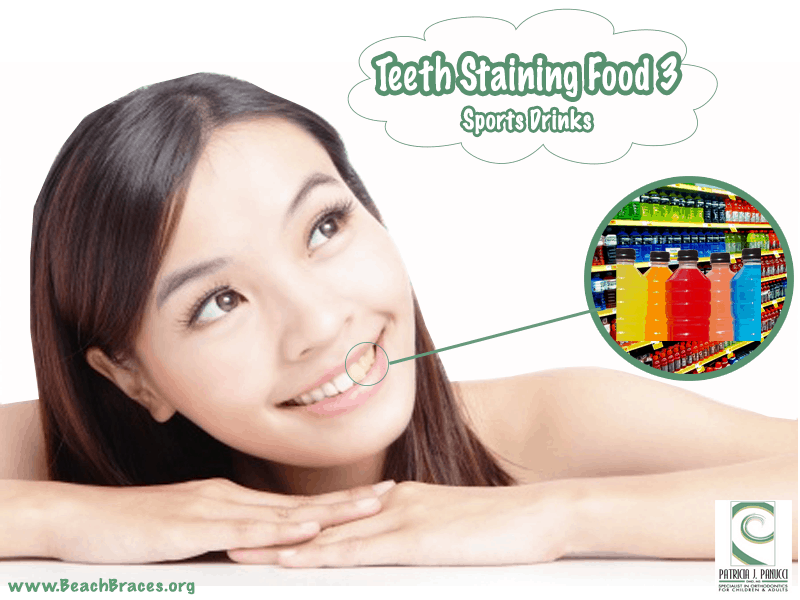 Teeth Staining Food # 3: Sports Drinks
If you lead an active lifestyle, then you probably love to cool off and re-energize with a refreshing sports drink. However, these popular sports drinks in eye-catching colors are often enjoyed at the expense of your teeth. Over time, these vibrant blue and green drinks can begin to stain and discolor your teeth.
Can you enjoy sports drinks without damaging your smile? It is possible, if you follow some basic guidelines. Here are some tips on how to enjoy refreshing sports drinks without ruining your beautiful smile.
Opt For Lighter Colors When Possible – Try to always pick sports drinks in lighter colors. They pose less of a risk to your smile. If you drink these sports drinks for their electrolytes, consider making the switch to coconut water. This clear and all-natural beverage has the same benefits as popular sports drinks, but poses no more of a threat to your smile than water, which is to say that they will cause absolutely no discoloration.
Always Brush After Drinking – Most people only make the effort to brush after a big meal. However, beverages can pose just as much risk to your teeth as food, if not more in some instances. If you need to drink a colored sports beverage, always remember to brush after you're done. This will reduce the risk of discoloration to your teeth.
If you're looking for teeth whitening services in Manhattan Beach, contact Beach Braces today. In addition to teeth whitening, we offer a myriad of dental services, and pride ourselves on being one of the best orthodontist specialists in Manhattan Beach. Whether you need to make an appointment for tooth whitening or learn more about the average cost of braces in South Bay, we want to hear from you.
Beach Braces, 1730 Manhattan Beach Blvd. Suite B, Manhattan Beach, CA 90266
TEL: 310-379-0006 Fax: (310) 379-7051.
Sports Drinks: Not as Sporty as they Sound
Related Posts
http://www.beachbraces.org/wp-content/uploads/2014/06/TSF-3.png
600
800
Dr Patricia Panucci
http://www.beachbraces.org/wp-content/uploads/2016/01/logo-beach-braces-orthodontics.png
Dr Patricia Panucci
2014-07-03 13:15:02
2015-02-24 19:18:29
Sports Drinks: Not as Sporty as they Sound