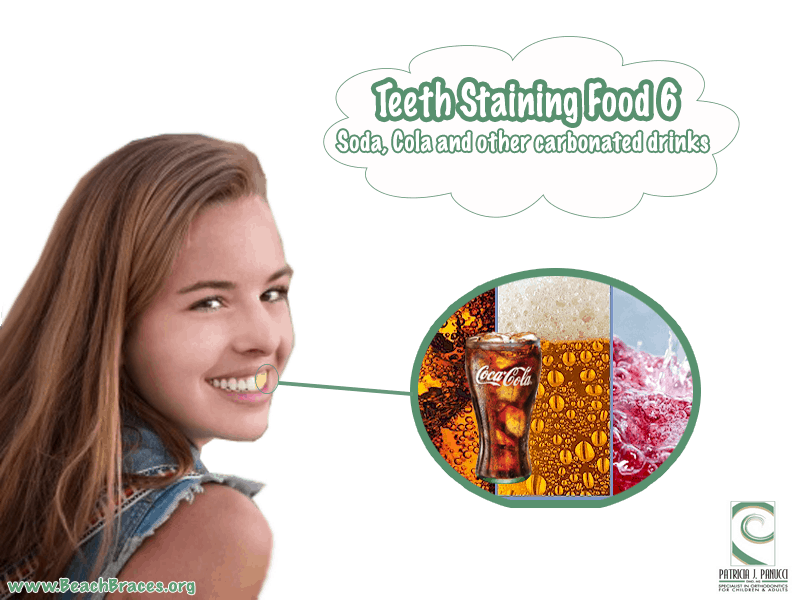 Teeth Staining Food # 6: Soda, Cola and other Carbonated Drinks
The next time that your kids need an idea for a science project, suggest them to study the link between soda and tooth decay. All they need to do is place a tooth in a small amount of cola and watch what happens to that tooth over time. The high level of acidity in the soda will break through the enamel and cause the tooth itself to appear dark yellow, brown or even black. Once you see those results, you'll think twice before handing over a can or bottle to your child.
Teeth Whitening:
Teeth whitening can reduce the problems that drinking soda can cause. Whether you have young children or teenagers at home, you might find that you don't have as much time as you would like. It's easy to grab a bottle of diet soda from the gas station or grocery store when you need a little extra energy, but drinking even one bottle a day can do more harm that you might think. While cutting back on your soda intake and how much soda your kids drink can help, you should also think about talking to an orthodontist.
An Orthodontist Specialist:
Dr. Patricia J. Panucci ranks as the leading orthodontist specialist serving the needs of her patients. She understands that you want to spend more time on the beach and less time worrying about your teeth. For some people do I need braces is a common question. They worry that their teeth are a little too crooked, and they worry about what others think when they smile. Whether you want a brighter smile or need braces for your child, call us at Beach Braces to get more information and answers to any questions you might have.
Beach Braces, 1730 Manhattan Beach Blvd. Suite B, Manhattan Beach, CA 90266
TEL: 310-379-0006 Fax: (310) 379-7051.
Soda Wreaks Havoc on Your Teeth
Related Posts
http://www.beachbraces.org/wp-content/uploads/2014/07/TSF-6.png
600
800
Dr Patricia Panucci
http://www.beachbraces.org/wp-content/uploads/2016/01/logo-beach-braces-orthodontics.png
Dr Patricia Panucci
2014-07-24 13:21:17
2015-01-29 01:00:41
Soda Wreaks Havoc on Your Teeth