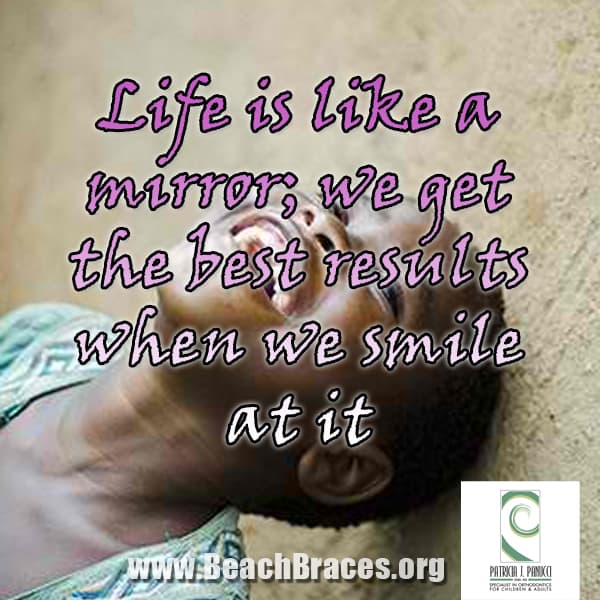 "Life is like a mirror, we get the best results when we smile at it"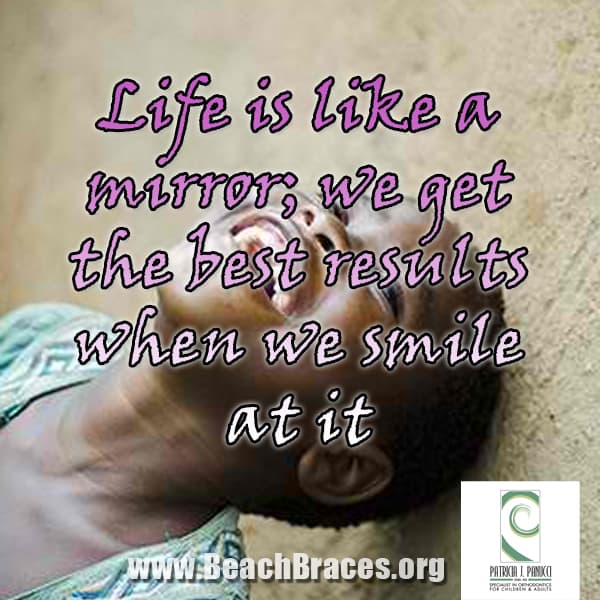 Beach Braces Smile Quote #12 "Life is like a mirror, we get the best results when we smile at it"
Have you ever looked in the mirror when you were smiling?  If you haven't recently go over to the mirror and start smiling at yourself.  Notice how happy you look?  Now, most of the time after I do this I end up making myself chuckle and then realize how silly I am being.
In that moment I am filled with happiness and all the stress that I have been dealing with has gone away.  A smile is something magical that can turn our worries away.  Why do we not smile more often?  It has also been said that laughter is the best medicine.
There are whole groups of people that meet together on a regular basis and have laughing times with each other.  They sit in a circle and use all of their energy to laugh.  When you laugh  you always feel good, right?  So why not share this happiness with others?  Some think that their smile isn't good enough to share with the world.  They think that because they have a couple extra teeth or because their teeth are crooked they don't need to smile anymore.
With the discovery of orthodontics over 100 years ago, we have the technology to straighten teeth for a more comfortable smile that you can call your own and share with the world.  Beach Braces wants to bring you to the point where you can be happy with your smile.  In a short amount of time you can have the smile that you have always wanted.
Call for a consultation today!
Beach Braces 1730 Manhattan Beach Blvd. Suite B, Manhattan Beach, CA 90266  TEL: 310-379-0006 Fax: (310) 379-7051
Smile that Stress Away
Related Posts
http://www.beachbraces.org/wp-content/uploads/2013/04/mirror.jpg
600
600
Dr Patricia Panucci
http://www.beachbraces.org/wp-content/uploads/2016/01/logo-beach-braces-orthodontics.png
Dr Patricia Panucci
2013-04-23 00:37:03
2015-05-08 08:16:14
Smile that Stress Away